Basement Waterproofing in Overland Park
Don't let a flooded basement set you back, contact the experts at Foundation 1 for basement waterproofing in Overland Park. Maybe you've spent the time and effort to finish your basement and create a livable space out of it, or maybe you utilize your unfinished basement for the storage of important items and keepsakes. However you use your basement, water infiltration is going to be the last thing you want to deal with. Not only does water in your basement potentially ruin whatever items are in there, but it can also lead to much more severe damages that will impact your entire home.
What Causes Water in a Basement?
While your home's own plumbing can sometimes be responsible for water infiltration into your basement, more often you will find the problem starts from the outside. If you don't have a waterproofing system in place—which includes adequate exterior drainage—the soil around your home can become heavily saturated with water during your average Northeast Kansas rainstorm. Overland Park gets more rain than the US average each year, so it is particularly important to have sufficient drainage. If you don't, you'll find that the saturated soil around your home builds hydrostatic pressure that presses inward on your basement walls and leads to water leaking through into your home.
Basement Waterproofing Methods
When it comes to expert basement waterproofing in Overland Park, Foundation 1 knows the different options available and can help guide you on which will have the best results for your home. Basement waterproofing solutions can be broken up into two basic categories: Exterior and Interior.
Exterior Basement Waterproofing
Stop water before it ever has a chance to infiltrate your basement with the right exterior basement waterproofing solutions. One of the most fundamental exterior water management systems is an adequate and clean gutter system, complete with downspouts that will discharge the water at an appropriate distance away from your home. Other important aspects of exterior basement waterproofing include ensuring your yard has proper grading so that water naturally flows away from your home rather than toward it, and installing drainage channels for water to follow.
Interior Basement Waterproofing
For the most complete waterproofing possible in Overland Park, you would want to have both exterior and interior waterproofing solutions. Interior waterproofing solutions also include drainage systems that are placed strategically to capture water in the areas it is most likely to intrude on. These drains typically will empty into a sump pump basin, where the water can collect until it reaches a level to be pumped out by the sump pump. At Foundation 1, we install the Dura Dry System, which is installed along the interior of the foundation where your wall and floor meet. This system uses two drains, an upper and a lower drain, which work together to channel the water into either your sump pump basin or, if needed, somewhere to your home's exterior. Unsure of whether your sump pump can handle the load? We have a full line of Pro Series primary sump pumps that are commercial grade and come with either 1.5-, 3-, or 5-year warranties when installed in a home for intermittent applications.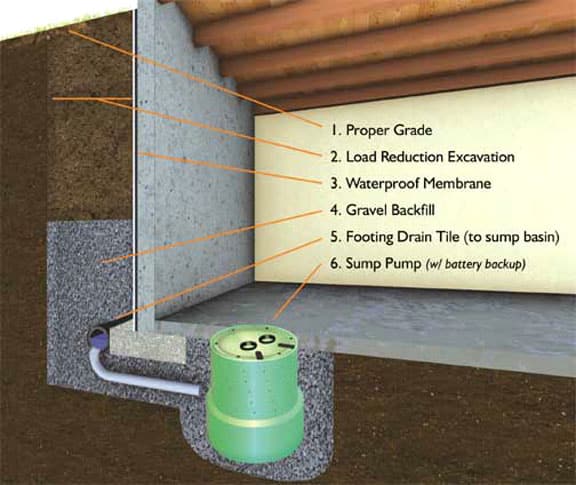 Call for a Free Estimate on Basement Waterproofing in Overland Park
Call today at 913-346-0842 to get a FREE estimate for our waterproofing services.