New Home Foundation Contractors
Established Foundation Contractors for New Home Construction
Since our start in 2001, Foundation 1 has established itself as a premier residential foundation repair contractor serving the Kansas City area. After years of working with homeowners to repair failing foundations and the addition of several new product lines, we're expanding our services into new construction markets. Your home's safety relies on the stability of its foundation—hiring an established foundation contractor helps ensure a reliable foundation from day one, significantly reducing the risk of encountering failure due to poor construction in the future.
Our New Home Foundation Contractor Services
To the new home builder, Foundation 1 can be a partner who provides helical piering, waterproofing membranes, and drainage solutions. Differentiate your homes from the competition by addressing foundation and waterproofing issues at the time of construction!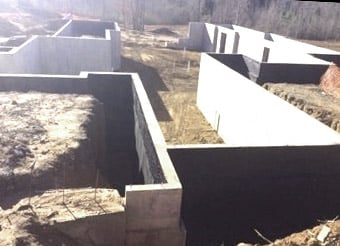 Helical Piering for Stable New Construction
Helical piers are a deep foundation solution with both repair and new construction applications. Ideal for new home construction where soils are unstable, helical piers transfer the weight of a structure from weaker shallow soil to deeper soils that have higher load bearing capacities. In doing so, foundations are less susceptible to damage due to settlement.
Additionally, when compared to standard masonry footings, helical piers boast the following benefits:
Faster, less disruptive installations
Can be installed in extreme conditions, including tight spaces and winter weather
Can be removed and reused
Can be loaded immediately
No heavy-duty equipment needed
Can be used vertically and horizontally
Accurate and precise installation
Protect Your New Homes from Day One With Waterproofing Membranes
Our new home foundation contractors offer exterior waterproofing solutions—such as waterproof membranes—to new home builders to prevent water intrusion from day one. Exterior waterproofing requires excavating the foundation wall down to the footing, meaning that the best time to implement this solution is during the new home construction process.
Prevent Foundation Damage with Exterior Drainage Solutions
Installing exterior drainage solutions when homes are first constructed can prevent the number one cause of foundation damage—poor drainage. We offer the following exterior drainage solutions for new construction:
French Drains
Grade Correction
Gutter Drains
Sump Pumps
Partner Our New Home Construction Contractors
Contact us today to set up a meeting to discuss how Foundation 1 can partner with you on new home construction.