When foundation shifts and settles, your property's concrete slabs can be compromised, causing cracks and uneven surfaces. Rather than pouring new concrete, which can be an expensive endeavor, we recommend concrete leveling. Our preferred method of concrete leveling is mudjacking, a process used to level, raise, and fill voids under the concrete.
Why do concrete voids and sinking occur?
settling ground / expansive soils
poor compaction during construction
poor excavation for drainage
poorly installed or maintained downspouts
burrowing animals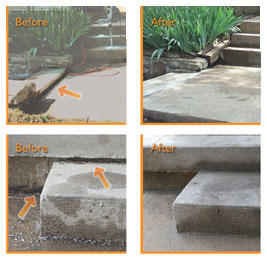 What is mudjacking and how is it used for concrete leveling?
Mudjacking involves drilling holes in the damaged concrete and filling them with a concrete mixture. This mixture fills the voids between the concrete and soil, which in turn levels the concrete surface. Mudjacking is our preference for concrete leveling because it's a cost-effective alternative to tearing out and replacing sunken concrete slabs. It is completed in just a few hours, requiring less equipment and manpower than newly poured concrete slabs. Not only that, it's minimally disturbing to the surrounding areas, meaning less mess and potential damage.
What types of concrete leveling can mudjacking accomplish?
driveways 
sidewalks
garages
basements       
patios
stairs
pool decks
under footing post piering
other free-floating slabs

Contact Foundation 1 today to set up an appointment to have a free evaluation at your home!
Click here to view photos of recent mudjacking jobs by Foundation 1.
Click here to download a brochure.
What Our Clients Say

Worked a near miracle at my house. They knew what they were doing and did it well.

-- Linda, Lee's Summit

What Our Clients Say

Courteous, responsive, adaptable, respectful, honest, professional, friendly, clean, quality work. Should I go on? I am a believer in balanced reviews, but there's just nothing shy of exceptional to say about this company.

-Brian, Lenexa

What Our Clients Say

Great company, great people! Go above and beyond.

-– Donna, Kansas City