Kansas City Concrete Repair Services
When it comes to the concrete outside of your Kansas City, MO home or business, its appearance can make or break your curb appeal. Unsightly cracks, dents, or broken concrete can put a stain on your business' reputation or make visitors feel uncomfortable before even setting foot inside your home. In addition to improving the aesthetics of your concrete, repairs can also create a safer environment for guests.
Foundation 1 is a concrete company with years of experience in the concrete repair industry. We understand the importance of good-looking concrete that is structurally sound and safe. We perform expert concrete flatwork services for those who need new installation of driveways, garage floors, sidewalks, and more. We perform installation of new concrete or repair of crumbling concrete.
If you have existing concrete that is damaged, cracked, broken, or buckled, this situation is more than just an eyesore—it can be dangerous. Property owners have a duty to maintain safe premises for visitors, and chipping, cracked, or damaged concrete can be a tripping hazard that could get you into hot water. If someone trips and injures themselves due to your concrete problems, you could be liable. If you have unlevel concrete, we can fix it with mudjacking, and if you just need concrete crack repair, we have affordable repair options for that as well.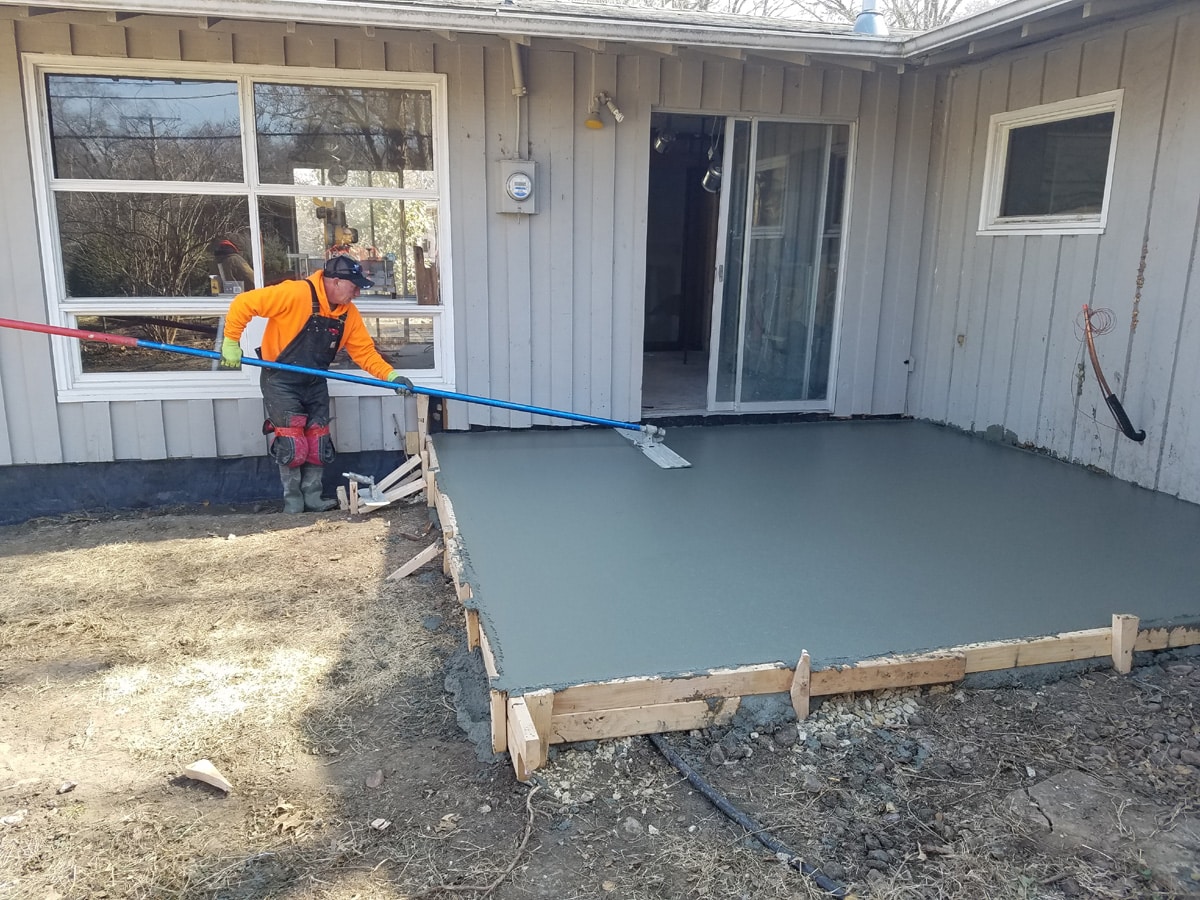 Our Concrete Flatwork
Flatwork is any horizontal and flat building component. Typically, you'll want to utilize concrete for flatwork applications because it is cost-effective, durable, and easily customizable. We recommend concrete flatwork over asphalt because you will have far less maintenance and a much longer life out of concrete flatwork. Asphalt needs to be resealed every few years and will need total replacement within 20 years. Compare that to the fact that properly poured concrete flatwork can last up to 100 years or more and it is easy to see why most people choose concrete. Foundation 1 can handle your concrete needs. From new pours, concrete repairs, and treatment to removal and replacement services, our concrete contractors can handle your concrete project in a timely manner. We handle concrete steps, patios, pathways, and more. Here are some more examples of flatwork concrete services we can provide:
Concrete Flatwork
Driveways
Garages
Stairs
Sidewalks
Patios
Basement Slabs
Pool Decks
Retaining Walls
Additions
Curbs
Footings
Dirt Work
Concrete Design
When you think of concrete, you probably think of the gray sidewalks you see around your neighborhood. While the gray standard concrete you see every day is cost-effective and functional, concrete applications don't have to be so bland. Concrete has a variety of coloring and texturing options that can make it so much more than the gray slab you are seeing in your mind's eye when you think about concrete. Our concrete flatwork can be colored via pigments mixed within it or through a dry-shake method of applying deeper colors. Concrete can also be stamped to look like brick or flagstone, without the drawbacks of actually using those materials. You can also add substances to concrete to give it a more decorative finish. Concrete doesn't have to be basic and boring. Here are some of the ways Foundation 1 can jazz up your concrete project:
Coloring
Sealing
Stamped
Epoxy
Antiquing
Metallic Coatings
Acid Stains / Water Base
Concrete Leveling With Mudjacking
Mudjacking is a term for concrete leveling. Large slabs of concrete can be leveled by filling the void the concrete slab has fallen into with a slurry mixture of concrete, sand, and soil that will lift the slab back into place. Sometimes this process is referred to as slab jacking. Concrete sinks because the soil underneath it has shifted out of place and given way to empty spaces that cannot support the concrete's weight. By filling this empty space through the process of mudjacking, we can solve the problem and leave you with level concrete that no one will be able to tell was broken to begin with. Because mudjacking addresses the underlying issue of why the concrete is breaking in the first place, you can expect the results to last the lifetime of your concrete. Mudjacking has been a trusted concrete leveling solution for more than 70 years.
What is the cost of mudjacking?
As with all things related to home repair, there are no set costs for mudjacking. The final cost will depend upon the extent of the concrete that needs to be repaired and the amount of material we end up needing to complete the job. The best way to know how much your mudjacking will cost is to contact us and allow us to assess your concrete. Because of the uncertainty in the costs of concrete repair, we are happy to offer our evaluations to you free of charge. In addition to just a cost estimate, we will provide you with a repair plan so you can have a good idea of how long the concrete repair will take and what steps we will be taking to ensure you have solid concrete. This gives you the opportunity to ask any and all questions you may have about our repair plan and the processes we will go through.
What causes concrete to sink?
While poor craftsmanship can lead to sinking concrete, more often than not the cause is from soil shifting out of place beneath the concrete slab. Without the proper support of sturdy soil, concrete sinks and breaks. Soil changes a lot based upon its water content. Heavily saturated soil swells and presses upward on the concrete, and then once the soil is dry, it shrinks and leaves an empty void. Soil can also be excavated from beneath concrete by burrowing animals. Trees and shrubs nearby your concrete can alter the soil's water content and lead to buckled concrete as well. Most soil types in the United States are some kind of expansive, shifting soil that will leave your concrete vulnerable.
How do you repair cracked concrete?
There are a variety of do-it-yourself options you can buy to supposedly fix a crack in your concrete, but we recommend leaving that kind of work to the professionals like those at Foundation 1. When it comes to concrete crack repair that you can do yourself, you're mostly just patching the problem while not doing anything to keep it from continuing to deteriorate. A professional concrete repair contractor can help you address settlement to prevent further damage, including heaves and buckles in the concrete. An epoxy injected into cracked concrete won't address the problem of soil beneath the concrete giving way and allowing the concrete to sink.
Reasons to Repair Damaged Concrete With Help From Cement Contractors
Concrete companies in the Kansas City area like Foundation 1 keep busy because concrete is functional and used for a wide range of purposes. For instance, concrete can be used as a home's foundation and also to create a driveway. Concrete can be employed for patios and also for sidewalks. Concrete is an extremely practical material, but it's not infallible. It can be damaged and should be repaired or replaced if it is broken or otherwise unsound.
A few reasons for concrete replacement or repair:
Small cracks are unsightly, but they turn into bigger cracks over time. Larger cracks can become a tripping hazard and can ruin the look of your concrete.
Concrete flatwork can add value to your home, increase curb appeal, and add a nice design to your outdoor spaces.
Concrete structures and hardscapes can add a nice contrast to your landscape.
The deterioration of your concrete can ruin the look of your yard and only gets worse over time. Fixing an issue early can keep repair costs down.
Concrete driveway repair and garage floor repair can protect your vehicle's tires.
Call Foundation 1 for Concrete Services in Kansas City
The idea of having new concrete poured, or replacing existing damaged cement patios or concrete driveways, may be overwhelming for you. It's likely you believe this is an expensive repair that you may not be able to afford or one that will be too much hassle for you to deal with. But replacing damaged concrete is important to protect you from liability. It also adds curb appeal and raises your home's value.
The concrete repair company of Foundation 1 in Kansas City, Missouri, is ready to take on your concrete problems. We can help you understand what types of concrete repair or replacement you need. We can also work with your budget to solve your concrete issues and minimize disruption to your bank account and your life. We are passionate about customer satisfaction.
Foundation 1 is your "one stop shop" for foundation repair, waterproofing, mudjacking, and concrete services. Residential and commercial services are available to the entire Kansas City metro on both the Kansas and Missouri sides. Contact us today to schedule a free estimate and repair plan.