Flagstone Walkway Installation in Kansas City
One thing is certain: after you've spent precious time and money to design your one-of-a-kind outdoor living space, people will beat a path to use it! You may as well make that path as beautiful as the rest of your carefully-designed yard. A flagstone walkway is one of the most attractive types of paver walkways available and has a natural feel that is sure to set off your landscaping.
At F1 Hardscapes, a sister company to Foundation 1, we can help you create beautiful and functional paths throughout your outdoor living space to compliment your design and protect your landscaping. As with all hardscape features, the number of options is nearly unlimited. We offer a wide number of pavers, natural stone, brick, and tile options to create durable, functional walkways. There are also a number of options relating to colors, textures, and patterns as well! Ready to install a beguiling flagstone path through your landscaping? Call F1 Hardscapes now!
Flagstone Walkway Design
Flagstone walkways are designed with stone that has been cut into irregular flag-like shapes. They vary in thickness, color, and rock types, making them versatile for a wide variety of design styles and able to coordinate with surrounding landscape materials with ease. You can lay flagstone pavers in different shapes, in a straight path, or in a curving design. If you have other hardscape features in your yard—such as fire pits, waterfalls, retaining walls, and more—your flagstone paver walkway can create an enchanting path between features without clashing with the elements used to create them.
At F1 Hardscapes, we have a variety of flagstone materials to choose from to ensure your vision for your landscaping is brought to life!
How Do You Fill a Flagstone Walkway?
In addition to choosing the design of the flagstone itself, you also have options when it comes to how to install your flagstone walkway and how to fill between pavers. While laying flagstone in concrete can create a longer-lasting solution, some homeowners and business owners choose to lay their flagstone in gravel, mulch, or sand for aesthetic or budgetary reasons.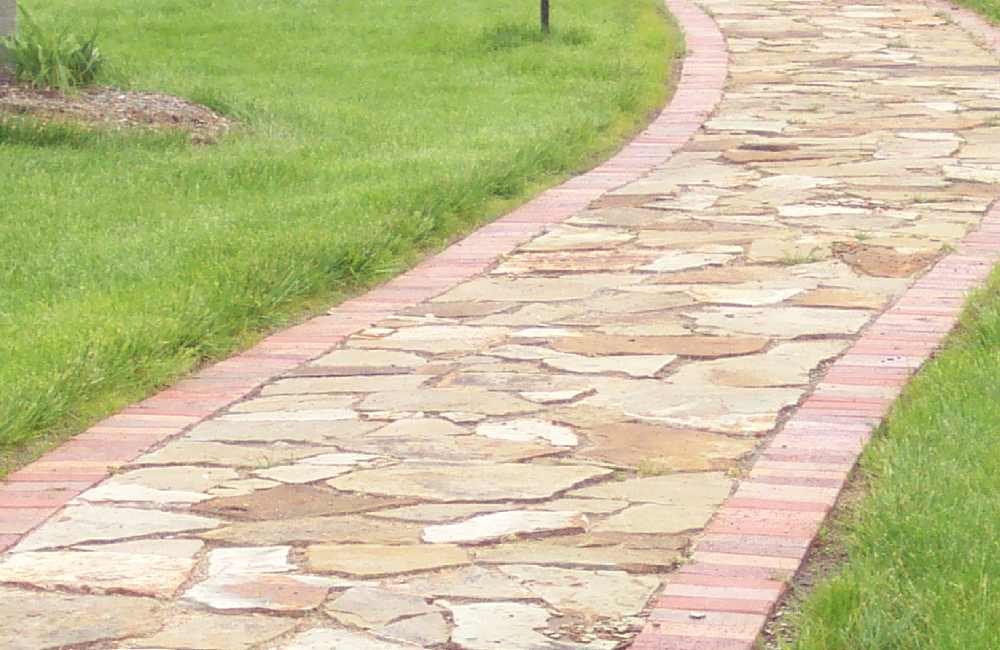 Why Hire a Professional for Flagstone Walkway Installation
Although visual appeal is important when it comes to installing flagstone walkways, functional design and construction is the difference between a walkway that lasts a few years and one that lasts decades. This starts with careful preparation of the supporting soils, the substrates incorporated and the compaction techniques involved even before placing the first stone. Expert construction practices make all the difference! With that being said, the creative design of your flagstone walkway is also important to the overall appeal of your landscape. There is no need to have a boring walkway when one that makes a statement can be constructed, often for the same prices! A little ingenuity goes a long way, and our contractors are familiar with a wide variety of patterns, materials, and fills to help you bring your vision to life. Finally, pathways always benefit from lighting, improving both their safety and beauty. The team at F1 Hardscapes will work with you to create your own custom walkways.
Reasons to Choose a Flagstone Path or Flagstone Patio
If you're considering different types of patios or paths, such as brick pavers, concrete, or other stone materials, you should examine the benefits of each of these options. Here are some reasons to choose a flagstone sidewalk over other choices for paths or patios:
Flagstone lends itself well to any design aesthetic. Brick pavers can give off a traditional vibe or even look outdated in some instances. Flagstone is truly timeless and suits modern, traditional, contemporary, and other design styles.
Other benefits of flagstone are all the different customization options. You can choose the size of the flagstone or have it cut into distinct shapes. You can choose the materials and colors so that it truly matches your style and landscape. Because of all of the different types of flagstone, you can create a path that is unique to your home.
Flagstone pathways blend in well with nature because they are made of natural materials. Because of their irregularly shaped pieces, they appear more natural and attuned to the environment. If you do prefer a cleaner look, you can lay flagstone in a regular pattern or have it set in concrete for a tidier look.
Whether you want a path with curves or one with severe angles, flagstone can work for your pathway design. Your sidewalk will blend in and complement the natural surroundings.
Unlike a concrete slab or concrete sidewalk, natural flagstone walkways are long-lasting, and flagstone pavers are easily replaced if one piece of flagstone gets damaged or cracked.
Because flagstone comes in different sizes, a flagstone walk can truly suit any size yard, big or small. We can help you figure out whether you should get larger stones or smaller stones for your garden path.
Flagstone is the perfect decoration for your garden. Like icing on a cake, a flagstone path is the finishing touch.
Call F1 Hardscapes for Flagstone Walkway Installation in Kansas City!
Not just anyone can lay a flagstone walkway that suits the surrounding landscape design—you need the help of professional flagstone walkway installers! At F1 Hardscapes in Kansas City, we have the perfect team to place your flagstone sidewalk and make it perfect for the foot traffic that's surely headed to your inviting yard. We are ready to pave a path through your garden, all you have to do is reach out. T​o discuss our next steps, please call us at 816-682-8440 or fill out our online form!