Kansas City Hardscaping Services
F1 Hardscapes: An "F1 Services" Company
At F1 Hardscapes, we provide hardscaping services to improve the appearance and enjoyment of your outdoor living spaces. F1 Hardscapes is a sister company to Foundation 1—a company that provides drainage and waterproofing solutions to home and business owners throughout the Kansas City metro. With extensive knowledge and experience in exterior water management, we understand the importance of creating hardscapes that are attractive and work functionally with the drainage requirements of your area.
Our hardscapes team has more than 30 cumulative years of experience and has done some of the most visually appealing work in the Kansas City metro. And, as a part of the F1 Services team, you're doing work with an established, locally owned contracting company. Don't trust your landscape hardscape design to just any "guy with a truck" or national franchise—trust in the experience of F1 Hardscapes.
What Are Hardscaping Services?
Hardscaping refers to the hard materials used for both aesthetic and function in landscape design. This can include elements like backyard patios or fountains and waterfalls. At F1 Hardscapes, we provide a wide variety of hardscaping services and design options (including colors, styles, and more) to help you to create your ideal outdoor living space. When you work with our design team, you'll review all of your options and the advantages of our products over other products and techniques.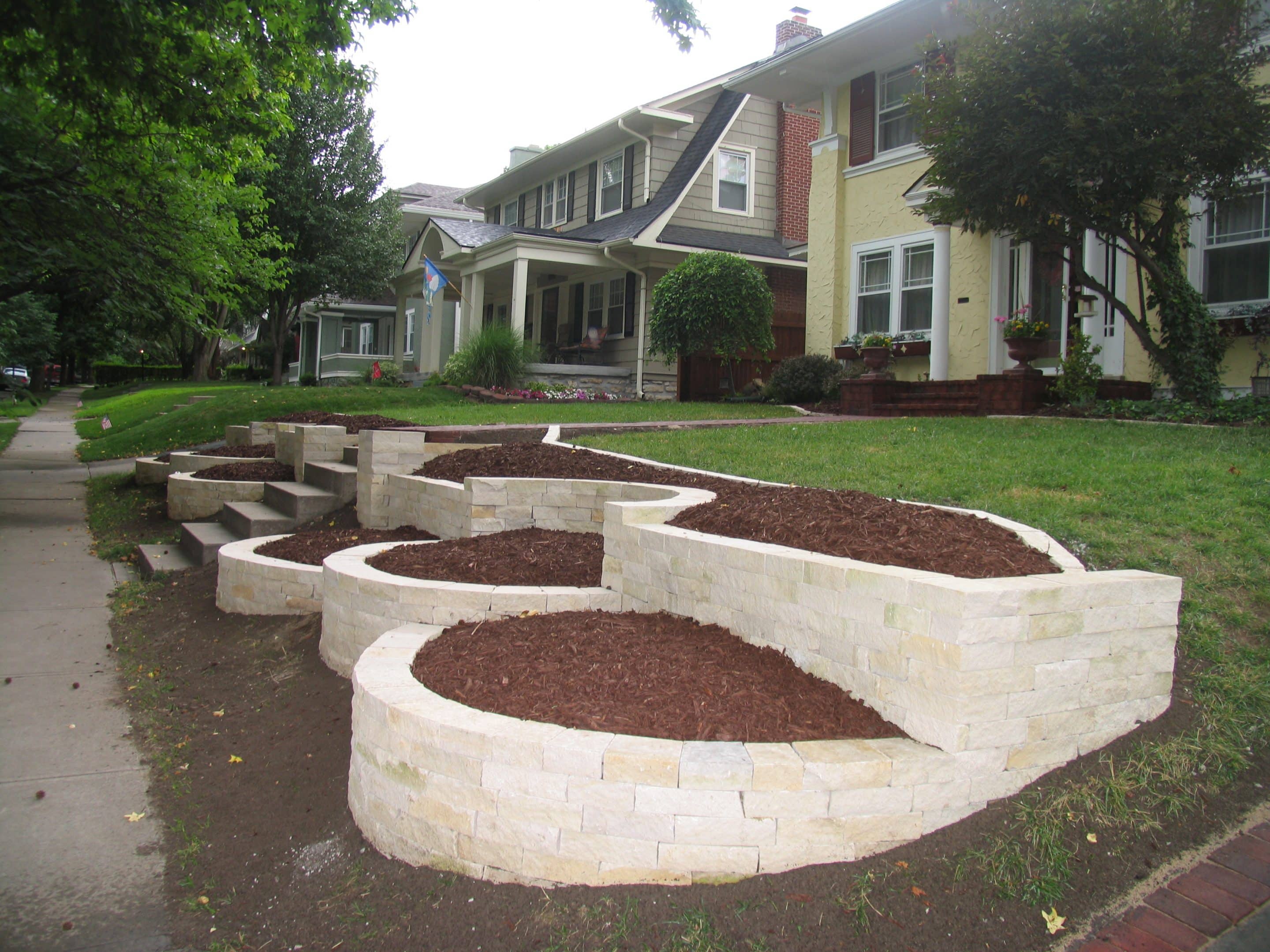 Our Kansas City Hardscaping Services
Create an outdoor living space that gets the neighborhood talking. Whether you're looking to design a serene garden that provides an escape from the Kansas City hustle or you're looking to create the ultimate space for backyard parties—we're here to help. Quality hardscaping services not only allow you to achieve the aesthetic goals for your lawn and landscape, but they also provide long-lasting functionality that can withstand years of use and harsh weather.
At F1 Hardscapes, our builders and designers are trained and experienced in constructing hardscapes with unmatched structural integrity. Whether it's a retaining wall, fire pit, or pool, we're committed to providing hardscaping services that create a functional, beautiful, and safe outdoor environment.
Fire Pits and Fireplaces
There's not much better on cool summer and autumn nights than sitting around a fire with family and friends. Whether you're making s'mores with the kids or sharing drinks with neighbors, a backyard fire pit can provide entertainment for the whole family.
Patios
Patios can provide space for relaxing, entertaining, and enjoying the things you love with those you love. At F1 Hardscapes, we pride ourselves in constructing patios that provide everything you're looking for when it comes to an outdoor living space. Always dream of having an outdoor kitchen to show off your skills on the grill? We can help with that. Want a screened-in new patio for winding down with a good book after long days in the office? We can help with that, too.
Retaining Walls
Retaining walls can help create a more functional yard space, mend problems with drainage and soil erosion, or alter landscapes for aesthetic purposes. With a wide variety of paver types, colors, and patterns to choose from, our retaining wall builders and landscaping contractors can help you construct a landscaping feature that is both beautiful and durable.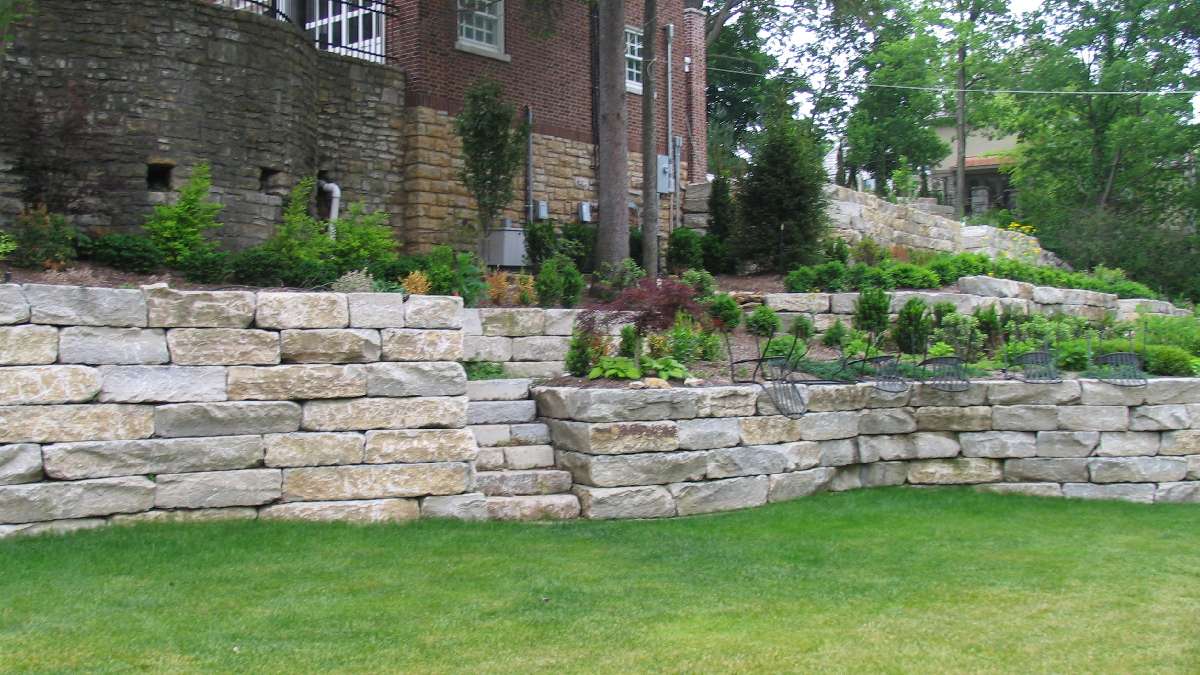 Water Features
Is a water feature the finishing touch you're looking for to complete your outdoor garden, kitchen, or entertainment space? At F1 Hardscapes, we can help you construct a modern-day moat, a show-stopping fountain, or a serene backyard waterfall. We provide quality work, gorgeous designs, and professional installation that will give everyone who enters your yard a "wow" first impression.
Pools
Kansas City's hottest summer attraction? Your backyard! A pool is an investment the entire family can enjoy for years to come—especially when it's built by the experts at F1 Hardscapes. From freeform lagoon pools to infinity pools, backyard spas to backyard splash zones, we're here to help bring your dream to life with our professional installation services.
Landscaping and Water Gardens
When it comes to creating beautiful landscapes and water gardens, finding the perfect balance between softscapes and hardscapes is key to a beautiful outdoor living space. Our hardscape professionals can help you achieve this balance by designing manmade features such as ponds, waterfalls, retaining walls, boulder walls, landscape edging, and more.
Flagstone Walkways
Create beautiful paths to and from the features of your outdoor space with flagstone walkways. Whether they're meandering through a garden, leading to your pool, or surrounding your backyard fire pit, flagstone walkways can help create unity within your landscape. Our landscape design services can make your backyard dreams come true.
Hardscape Pavers and Stone Veneer
We have a wide selection of hardscape pavers, including natural stone, to ensure your landscape reflects your personal style.
Contact F1 Hardscapes of Kansas City Today!
Ready to transform your outdoor living space with hardscaping services from F1 Hardscapes? The landscaping services our team provides are top notch. You can finally get that hardscaping project finished.To discuss our next steps, please call us at 816-682-8440 or fill out our online form!