Mudjacking is the process used to level, raise and fill voids under the following types of concrete:
•    driveways           
•    sidewalks
•    garages
•    basements          
•    patios
•    stairs                     
•    pool decks            
•    under footing post piering
•    other free-floating slabs
Why do concrete voids and sinking occur?
•    settling ground / expansive soils
•    poor compaction during construction
•    poor excavation for drainage
•    poorly installed or maintained downspouts
•    burrowing animals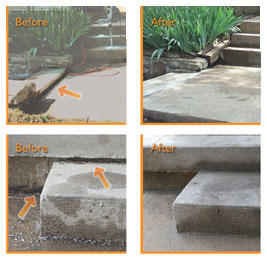 Mudjacking is a cost effective alternative to tearing out and replacing sunken concrete slabs and is minimally disturbing to the surrounding areas. Completed in just hours, this method requires less equipment and manpower, in comparison to days with a newly poured concrete pad.
Contact Foundation 1 today to set up an appointment to have a free evaluation at your home.
What a great crew!  The gentlemen who were sent to do the job were fantastic.  – Michelle, KCMO

The entire organization was very friendly and professional.  They showed up consistently, worked hard and explained everything that was being done and answered any questions I had.  – Angela, Spring Hill

Most surprising of all was the clean up. They even cleaned my garage floor and large crawl space with a sponge and bucket to clear the mud tracks. Are you kidding me? – Andrew, Blue Springs