Retaining Wall Contractors in Kansas City
Retaining walls are important aspects of a hardscapes design plan—however, because they are often only seen as functional, many designers miss out on the opportunity to create a landscape design feature that contributes to the overall design of your outdoor space.
With the help of F1 Hardscapes, your Kansas City property's retaining walls can be as beautiful as they are functional. Whether your yard features a tiered garden, a sunken patio, an elevated flower bed, or a walkout basement, our hardscaping team can help you design a retaining wall that is both strong and stylish.
To learn more about design possibilities for your landscaping project and to get started planning your retaining wall installation, call F1 Hardscapes today for professional landscaping services!
What is the purpose of a retaining wall?
By definition, a retaining wall is a structure to hold back the lateral (sideways) pressure of the soil, especially when there is a desire to change the elevation of the natural angle of the existing soil. Retaining walls are often installed to achieve a variety of landscaping features, including tiered gardens and walk-out basements. With that said, retaining walls can also be used for very practical purposes, such as creating a flat surface in an otherwise sloped backyard or protecting homes that rest at the bottom of a sliding hill. The topography and weather found in Kansas and Missouri create opportunities for highly functional and highly attractive retaining walls. Regardless of the purpose for your retaining wall installation, you will want to use high-quality materials for your new retaining wall design project.
How is a retaining wall built?
Typically, retaining walls are constructed of three different materials: natural stone, segmental concrete wall blocks, and concrete. Selecting the right materials is important because retaining walls often have to hold heavy loads. Selecting the right category is important. Additionally, there are many manufacturers of materials at a variety of price points and features. Relying on the experts at F1 Hardscapes will ensure you have selected the best materials.
But building a retaining wall is more than just stacking blocks. Obviously, the larger and higher the wall, the more important proper design and installation. The goal, of course, is not only a functional and attractive wall but also one that is long-lived—one that lasts decades, not months. (Yes, poorly designed walls can experience challenges that quickly!)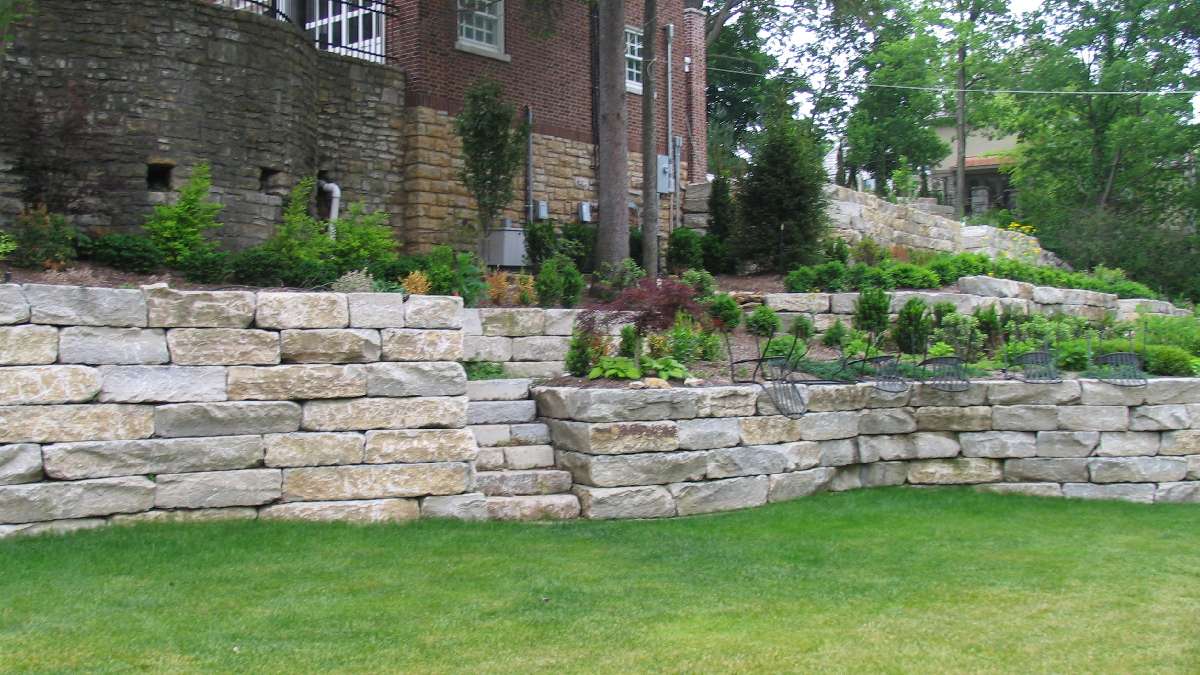 Retaining Wall Installation
The first issue which requires attention is the base materials used under the wall. A proper substrate must be installed and compacted. Many "do it yourself" walls experience challenges because of insufficient materials and compaction across the base. As you might also imagine, making sure the base layers are level also contribute to success or failure.
A second primary issue with wall construction is proper drainage. Heavy rains in Kansas City could damage a poorly designed retaining wall. Given the whole purpose of a retaining wall is to retain active soils, poor drainage can put a great deal of pressure on walls. As surrounding soils expand and contract with water, the stress on the retaining wall increases. F1 Hardscapes is a sister company to Foundation 1, a company that has provided expert drainage and waterproofing to Kansas City structures for over 20 years. This partnership brings additional expertise not typically found in average landscaping or hardscaping contractors.
Other factors in design and construction include the type of backfill materials, weep holes, and retention fabrics. A properly designed retaining wall should provide years of function and, at the same time, look great!
Retaining Wall Design
A huge variety of manmade, segmental wall block systems are available. Not only do these systems bring a huge range of visual appeal and color and finish options, but there are a number of elements engineered into the systems to improve the durability of walls. These engineering features can vary widely. Our team in the greater Kansas City area invests the time and energy into understanding the features of these walls and can help guide our customers to the best decisions, without needing to invest huge amounts of time understanding the various engineering approaches utilized in the different wall systems.
Should a concrete retaining wall be indicated, F1 Hardscapes can coordinate a concrete design through its sister company, Foundation 1. We will work with you to ensure your wall is constructed to the specific needs of your property.