Overland Park's Trusted Foundation Repair Company
If you're looking for foundation repair, waterproofing, or concrete services in Overland Park, look no further than Foundation 1. We have foundation contractors who can perform foundation leveling, and cement contractors for all of your concrete projects. We also have basement waterproofing experts throughout Johnson County, so you can protect your home and foundation with our reliable, affordable services.
Family-owned and operated, Foundation 1 has earned the right to say, "Rest your foundation on our reputation." For the last 20 years, we've provided the highest quality work along with fair pricing and customer service based around honesty and integrity. Part of that means offering free, genuine consultations that allow us to determine your needs and answer any and all questions you have. We aren't here to upsell you into services you don't actually need; we're here to provide the best foundation repair experience in Overland Park. We provide foundation services, exterior and interior waterproofing services, and concrete services to residential and commercial customers in the Johnson County area, including Lenexa, Olathe, Leawood, Shawnee, Mission, and Mission Hills.
Our Services in Overland Park
If you are a homeowner in Mission Hills with a moisture problem, Foundation 1 can fix the problem using one of our waterproofing products. For example, we can install an interior drainage system, put in a waterproof membrane for your crawl space, or dig a trench for a French drain to pull water away from your home. If your home has already sustained foundation damage due to water infiltration, we can repair basement walls, foundations, and other structural damage.
We can also repair concrete damage or install concrete flatwork for those who need it. Is there anything we can't do? When it comes to your home's foundational stability, we are the Johnson County foundation experts.
We proudly provide Overland Park and the surrounding areas with a number of residential and commercial services. Whether you are a business owner in Olathe in need of drainage installation or a homeowner in Leawood in need a total foundation repair with piers, wall straightening services, new concrete flatwork, or basement waterproofing, we have the experienced contractors and the high-quality products you can trust to get the job done. Wet basements? Excess humidity in your crawl space? Is mold growing in your home? Call Foundation 1 for fast repairs or installation in Overland Park. Some of our main services are outlined below.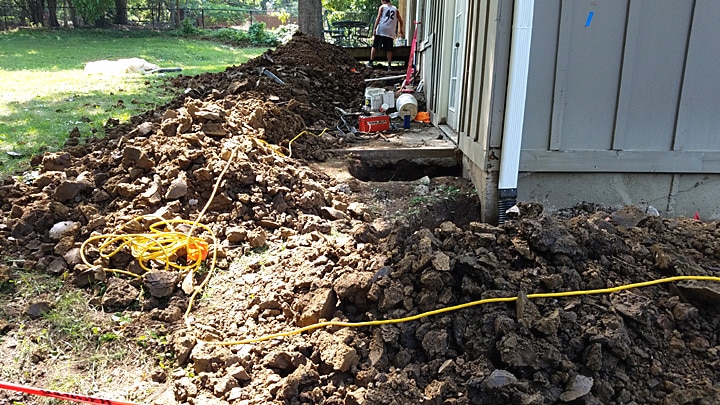 We perform foundation repair and foundation piering services in Overland Park and the surrounding areas in Kansas. If you have problems with uneven settlement of your home, call the experts at Foundation 1 before the situation gets worse. What could be solved with simple foundation crack repair will never improve on its own, and before you know it, you could end up needing a full piering system in order to get your home on stable footing again. Not sure if your sticking doors or sloping floors are from foundation damage? We perform FREE foundation inspections and can diagnose your issue along with providing options for repair.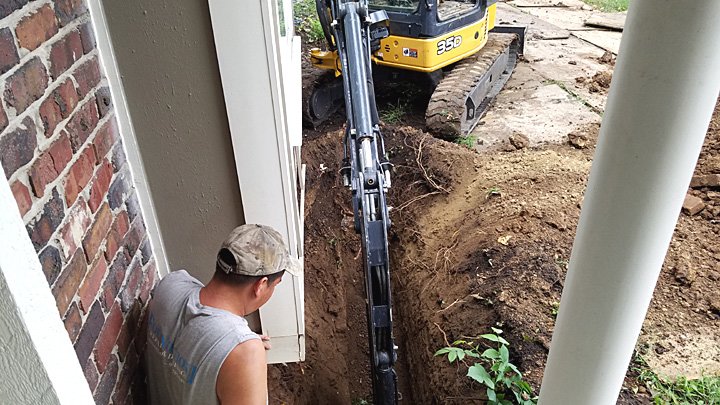 Basement and crawl space waterproofing is one of the best preventative measures you can take to protect your Overland Park area home. Water seepage in a Shawnee home could damage foundation walls. Mildew can thrive in a moist Lenexa office. Broken downspouts could cause excess water to destroy a Leawood home's structural integrity. Waterproofing can be installed either on the interior of a home or the exterior to manage surface and subsurface water in the soil. We have a variety of waterproofing options, including drainage, sump pump installation, crawl space encapsulation, and more.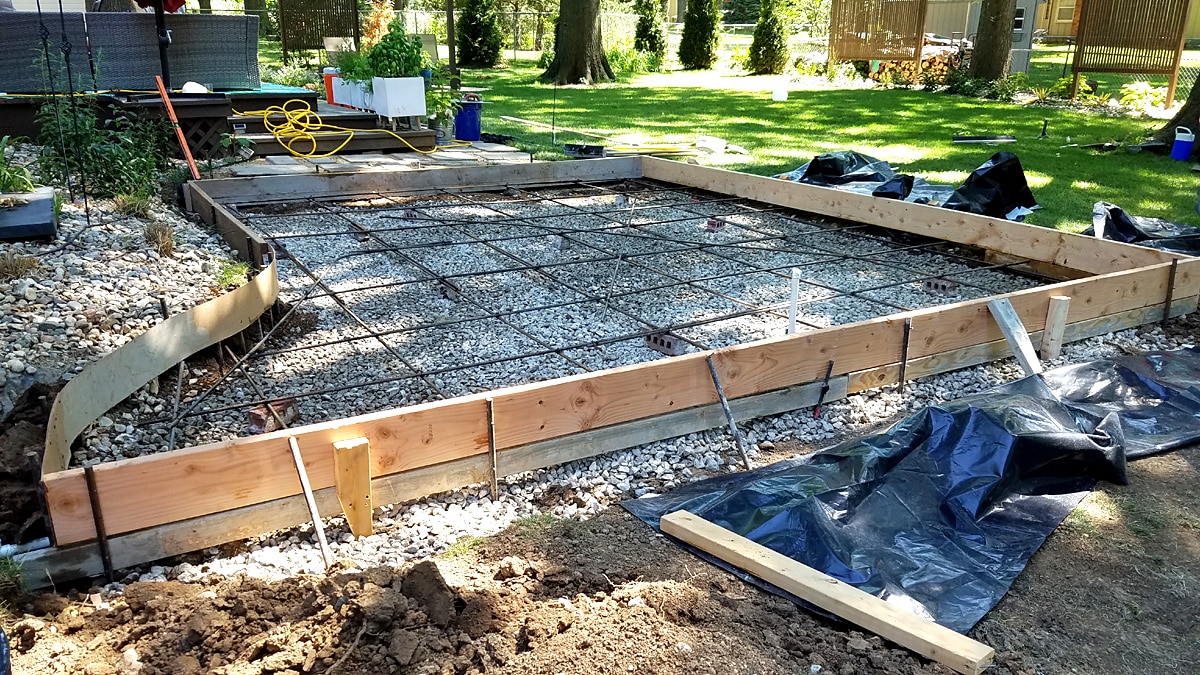 The appearance and quality of the concrete surrounding your home can have a serious effect on your curb appeal. If you need concrete flatwork or concrete repair services in Overland Park, we've got the expertise you need. Our concrete repair services include both crack repair as well as leveling by mudjacking. Our flatwork can include designs that are truly unique and add a stylish flair. Installation of new driveways in Mission Hills? No problem. Need a patio installed at your Mission home? We can pour one for you. Add concrete sidewalks in front of your Leawood residence? Let's do this!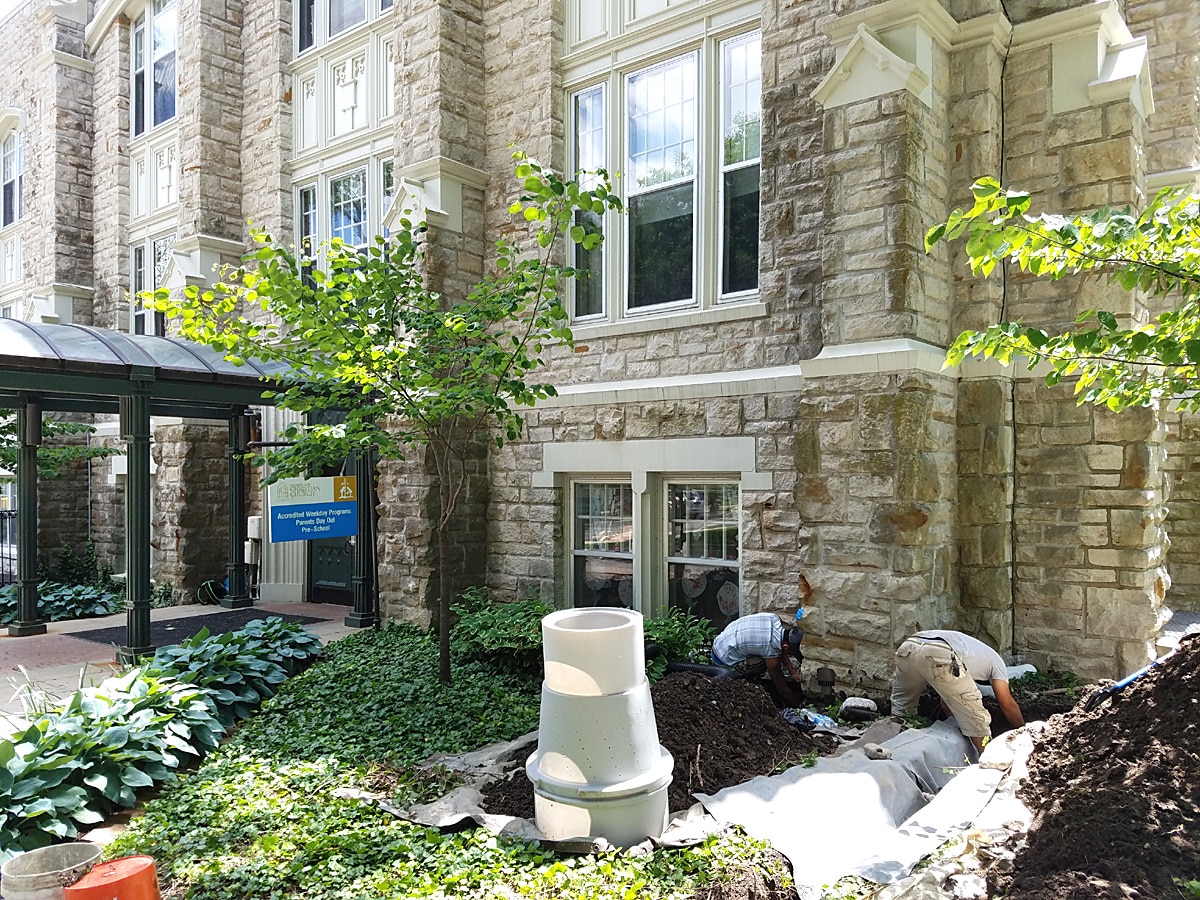 Commercial Services
Whatever your Overland Park commercial building needs are, we can meet them. If you have new construction that needs concrete work, or your existing building needs foundation repair—call Foundation 1. We can also perform commercial waterproofing services.
Call the Overland Park Foundation Repair Experts Today!
Call Foundation 1 in Overland Park, KS today at 913-346-0842 to get a FREE estimate for our services. Our foundation repair and concrete contractors are here to answer your questions and ensure you feel informed and comfortable with the work you're hiring us to perform. We are Johnson County's premier foundation, concrete, and basement waterproofing contractors!
What Customers are Saying....
"
Compare all the other guys to this firm, start to finish.
"
Scott,KCMO
"
They were punctual and professional. The foreman, in particular, went the extra mile to ensure that I was happy with the drainage solution.
"
John,Overland Park
"
Excellent experience! The crew was friendly, efficient and kept the work area clean and organized.
"
Michael,Independence