Kansas City's Best Egress Well and Egress Window Installation
Did you know building codes specify that basements, basement bedrooms, and every sleeping room shall have at least one operable emergency and rescue opening? Egress means "a way of going out or leaving a place," and you want your windows to allow for escape in the event of an emergency. Especially when your structure has a fire, you need an open window that can allow you to get out or a firefighter to get in.
According to international residential building codes, an egress window's area should be at least 5.7 square feet. The required dimensions include a width of at least 20 inches and a height of at least 24 inches (City of Kansas City, Missouri). Working with an egress window contractor can ensure that the opening height and opening width of your new windows are in compliance with international residential code. Foundation 1 can get started on the placement of egress windows in your home today. Just give us a call!
Increase Your Homes Value With Professionally Installed Egress Windows
Are you looking to enhance the value of your home? Installing professionally fitted egress windows could be the solution you need. These windows improve safety in your basement living area and provide additional light and ventilation.
What's even better is that by adding an egress window, you can convert your finished basement into a bedroom, significantly increasing your property's value. Additionally, to further boost your home's worth, you may consider combining your egress window installation with a French drain installation. This can keep your basement free from moisture and further enhance your home's value.
Egress Compliant Basement Window Systems
At Foundation 1, we provide egress-compliant basement window systems that offer safety and style. Our windows offer a dependable emergency exit, transforming your basement into a cozy retreat. The stone texture of our windows gives off a realistic feel, adding curb appeal to your home.
Our wells provide a more natural and inviting atmosphere than traditional metal options. By installing egress windows, you can reduce the dampness in your basement by allowing more natural light to come in. For optimal basement protection, you can pair this with a French drain installation. We are here to assist you in creating a stunning, safer, and more functional space in your home with our egress window systems.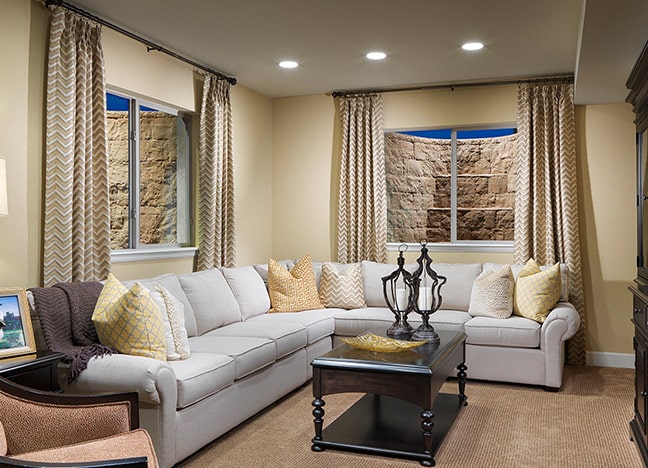 Video of Egress Window Installation
The Boman Kemp Window System is an economical solution for taking the basement to a whole new level. The complete system includes the Easy-Buck, Easy-Well, Double Insulated Vinyl Window, Safety Grate, Lexan Cover, and Escape Ladder. It meets and exceeds the egress requirements of all communities. When you partner with Foundation 1, you can get the entire system installed in one go, reducing stress and eliminating the need to work with multiple contractors. Your basement bedroom will meet international building code when you install an egress window that provides a means of escape, and you can list this extra bedroom space when you go to sell your home.
In many cases, an egress window can be installed in a pre-existing window frame. Depending on the dimensions of the current frame, some structural work may be needed in order to enlarge the height width of the window opening; but that usually simplifies the job for the window installer since they don't have to start from the ground up.

Egress Window Requirements
Egress is simply defined as "a path out," which is why the term is used for these "emergency exit" windows. Egress windows and window wells must follow specific size dimensions and meet other regulations.
In case of a fire or other emergency, you need larger open windows for a safe escape from a dangerous situation. Your basement windows must be able to be operated from the inside without tools or keys, and when the windows are ajar, they must have a window opening wide enough for a person to crawl through.
Basement egress windows have special requirements due to the fact that they are below ground. For your own safety, and the safety of others who may be staying in a basement room, you should install large egress windows that meet current code. Because the window must still be able to be utilized for escape in emergency situations, a window well must be installed. The well must be big enough to move in and easy to escape from.
At Foundation 1, we're well-trained in all the requirements for your egress window installation and will make sure your home can be safely escaped in case of emergency. We take special care in ensuring your new basement windows will meet egress requirements. If you are unsure of whether you need new windows, call us today. We provide free inspections of basement windows and a free estimate of installation costs.
As an investor I always add an egress window to the homes I buy. It instantly adds more value to the home than the initial investment. It's a no-brainer for me and Foundation 1 is my go to contractor.– Chris, Olathe

I can't believe how much light the window lets in. The room actually feels larger than before. Foundation 1 did a great job and would definitely refer them or use them again. – Steve, Leawood  

Great for the cost, went with the basic well package and I love it. I wish I had room for one more but this one made a huge difference. Great work, Great price. –Angela, KCK
Is it illegal in Missouri to have a bedroom in a basement?
No, it is not illegal in Missouri to have a bedroom in a basement, but you will need to have a basement escape window and egress window well for safety reasons and to meet code requirements in the state. If your basement does not have an egress window and window well, talk to a contractor at Foundation 1 about getting one installed right away.
Do I need an egress window in a bedroom on a second or third floor of a house?
Yes, all bedrooms need an egress window so that escape is possible in the event of an emergency. That doesn't mean that all windows have to be egress windows. For instance, if you have one egress window in an upstairs bedroom, the other windows in that bedroom do not need to be egress windows. Call us for questions about code requirements.
Do egress windows in basements cause drainage problems?
If an egress window well and window are properly installed by a professional contractor, a drainage system should be addressed. If you already have a drainage solution in place, your contractor can tie into that system. Foundation 1 can not only install window wells and windows to meet code requirements, we can also address water damage, foundation repair, sump pump installation, French drain installation, and other common waterproofing issues.
What if I don't have enough wall space for a large egress window?
The solution for smaller rooms that have walls with limited surface area is casement windows. Casement windows are a type of egress window that functions similarly to doors and swings open using a crank or handle that can fold away. These open windows must have at least 8 square ft. of the net clear opening. Consider installing a casement window to meet egress window requirements for your home.
Connect With a Kansas City, Missouri Egress Window Installer
Do you believe that your basement or ground floor windows don't meet current width requirements and minimum height code requirements? For safety reasons, you want these specific requirements to be met so you can create a safe home for your family and guests. With the installation of egress windows, you can avert disaster in the event of a fire or other emergency situation. In addition, egress windows can increase the value of your home. They can also make it more likely for someone to buy your home because everyone wants to purchase a house with proper safety precautions already in place.
Foundation 1 is standing by, ready to help with a basement remodeling project. We can help you meet code requirements for egress windows, such as minimum height of opening and minimum width of opening. We can help install replacement windows or window wells for your basement to protect you and your family and improve your home's overall value. Call for a free inspection and estimate of your egress window installation today.