Basement Interior Waterproofing in Kansas City
It doesn't take much water to wreak havoc on your home. Even small amounts of moisture can lead to bacteria and mold growth, wood rot, and foundation damage. But at Foundation 1, we're committed to ensuring that's something Kansas City homeowners never have to worry about—by offering high-quality products, friendly and reliable service, and transferable lifetime warranties.
Find peace of mind in knowing that your home and possessions are safe during heavy rain with interior basement waterproofing from Kansas City's trusted waterproofing contractors. Call today to schedule your free inspection and get a complimentary crawl space or basement waterproofing cost estimate!
Our Basement Waterproofing System
At Foundation 1, we proudly offer the Dura Dry waterproofing system, an interior drainage system that is an ideal solution for waterproofing basement walls from the inside. It is installed along the interior of the foundation where the wall and floor meet. An essential component to any crawl space or basement waterproofing system, the Dura Dry collects water that enters from either the floor joint or wall cracks through two drains—the upper wall drain and lower footing drain. The interior drainage collects water that is then channeled towards a sump pump in your basement or discharged to daylight and out of your home.
Why Interior Basement Waterproofing?
Contrary to popular belief, basements can be waterproofed from the inside using an internal waterproofing and drainage system. The benefits to installing an interior versus an exterior waterproofing system include:
It is less expensive than an exterior waterproofing system.
It is faster to install.
There is no impact on the outside landscaping.
It's always a smart idea to protect your basement with a waterproofing system as a preventative measure to potentially save you thousands of dollars in repairs down the road. If you're looking to protect your basement from water damage, contact Foundation 1 for a free estimate on interior waterproofing in your home or building.
Ensuring Complete Protection Against Basement Leaks and Floods
Installing a good drainage system like the Dura Dry interior waterproofing system is only part of the battle when it comes to keeping water out of your basement or crawl space. Using a quality sump pump and high-efficiency basin are just as important. If your system does what it is designed to do then it is going to collect water, sometimes a lot of water, and you have to get it discharged as quickly and efficiently as possible. By combining our high-efficiency Bell Basin with Pro Series commercial grade sump pumps you have the best of both.
For stone foundations, the wall must be covered with a wall wrap to ensure the water from the wall makes it to the Upper Wall Drain. All foundation walls can be covered with our wall wrap and in many situations, it creates a much more healthy environment for the whole home and gives the basement a cleaner, more finished look.
Upper Wall Drain
Lower Footing Drain
Sump Pump Inlet
Bell Basin
Sump Pump
Wall Wrap
New Concrete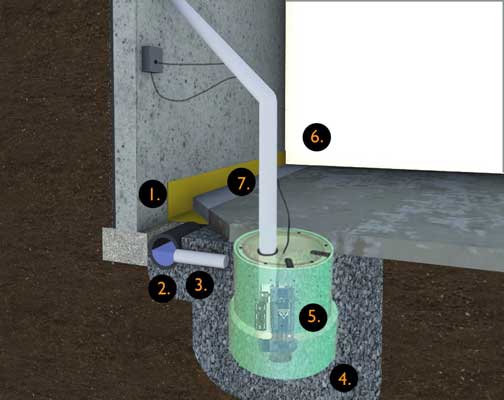 For stone foundations, the wall must be coveredNow, during even a very heavy rain, the house is dry! – Margaret, Mission

We are glad that we went with this company and would recommend them to others needing a waterproofing solution. Customer service also responsive and efficient. – Alice, Independence

Very happy with the job the team did waterproofing my basement and installing a sump pump. – John, Overland Park
To take a look at some waterproofing project photos, click here!
Why Choose Foundation 1 for Basement Waterproofing in Kansas City?
The Dura Dry interior waterproofing system is a tried and true system that comes with a lifetime guarantee against future water intrusion. Although many companies offer basement waterproofing through a wide variety of complex products and processes—the key to basement waterproofing is to find a company that will use quality materials and highly trained crews to do it correctly the first time. At Foundation 1, you will get the best from us every time—the best materials installed by the best crews in the Midwest, all backed by the best warranties in the industry.
Interior Basement Waterproofing Systems FAQ
How does the system work?
The Dura Dry interior basement waterproofing system from Foundation 1 can be a major system to help keep your home dry! The system works by collecting any wall water into a drainage system at the base of the wall, then moving the water to a sump pump where it is pumped out of the home and away from your foundation.
Installing such a system involves breaking about six inches of the concrete floor slab out at the base of the foundation wall. We then dig a small trench in the dirt to place a drainage pipe under the slab next to the foundation footing. We fill the rest of the trench with gravel. The "secret" to the system is to install a dimpled plastic insert at the base of the foundation wall, which allows water to flow through from the wall into the drainage pipe after the concrete floor slab is replaced.
The goal of the interior drainage system then is to ensure any wall water is collected and is pumped out of the home before it collects on the basement floor or has an opportunity to create damage.
So, does water still come down the wall?
Yes. The system is designed to work in situations where the foundation walls are already allowing water into the interior of the basement. The system collects that water into a drainage system preventing the water from reaching the floor or staying inside of the foundation.
But it is important, however, to understand that if you install this system, the water will still come down the walls
What if I am getting water in the basement from my window wells?
We can tie a window well drain into the same system so any water which collects in the window well will be piped into the footing drain and diverted to the sump pump and away from the home.
Can you tie a wall wrap in with the system?
We can. As an added level of protection, we can put a waterproof membrane next to the wall which will trap the water next to the basement wall (between the wall and the membrane – from the top of the wall to the bottom) and then tie the bottom of the membrane into the interior drainage system. This ensures that any water on the wall goes into the system. This is a smart idea in situations where you plan to finish the basement walls with drywall. In addition, if you are not finishing the basement, the wall wrap (also called "encapsulation" or a "vapor barrier") provides a very nice white appearance. (See our web page on this system.)
This same membrane system is also commonly installed in crawl spaces on both the walls and the floor for internal waterproofing.
Can the Dura Dry interior waterproofing system also be installed in crawl spaces?
Yes it can! Often overlooked for waterproofing, it is important to a foundation's overall health that crawl spaces stay dry. Installing an interior drainage system and sump pump inside your crawl space will provide the waterproofing protection your foundation walls need. Contact us today to have an expert in crawl space repair come out to your home to review your individual needs and provide an estimate.
Do you offer a warranty?
We do. It is a lifetime, transferrable warranty on water intrusion with the Dura Dry system. We almost never have any issues with this type of system that causes a need for repairs. It is extremely efficient at doing what it is designed to do.
It sounds labor-intensive to install. Is it?
It really is. It involves breaking out concrete, digging a dirt trench, and then physically hauling that debris out of a basement. There is no way to use automated equipment for this, so the debris is removed from your basement in 5-gallon buckets. This is tedious and very strenuous work. (Our guys are extremely tough!) It also involves carrying gravel down in the same kind of buckets. We also have to transport concrete bags into the basement as well. The interior waterproofing installation process is extremely labor-intensive. We commonly hear how impressed customers are with how hard our guys work.
Is it messy to install?
Anytime you are jackhammering concrete, there is some mess and dust. We will protect any finished floors with a covering for the pathway into and out of the basement. We also put plastic tarps over any areas where we expect to generate dust, (Note: the jackhammering is also noisy.) and will put up plastic tarps to contain the dust in the area we are working in . Of course, that's all the bad news. The good news is we do this every day, so we know how to protect your home, as well as clean up when we are done. This aspect is something we take a great deal of pride in. During the project, it does look like a mess (it has to in order to accomplish the project), but after we are complete, we will clean up before we go.
Sounds like the sump pump is a critical part of the system. Is it?
You are absolutely right; it is. A functioning, properly maintained sump pump is really the "heart" of the system. Most waterproofing systems rely on getting the water to the sump pump and pumped away from the home. It is so important that we often suggest installing a new sump pump in conjunction with the whole waterproofing system. If you plan to use your existing sump pump, we will need to ensure it has enough capacity and is in good enough condition to support the overall system.
Can you install the DuraDry interior waterproofing system in finished basements?
We actually can. We will remove the baseboards and work without removing the drywall. Of course, if we are installing the wall membrane / encapsulation with the system, we must get access to the foundation walls. But a "standard" DuraDry installation (without wall wrap) can be done without damaging finished (drywall) walls.
What are other options if I want to prevent water from coming into the basement at all?
As mentioned above, the interior waterproofing system relies on capturing water which comes down the wall and diverting it to a sump pump. Understandably, some people prefer a waterproofing system which prevents the water from entering the basement at all.
We can do this with our exterior waterproofing system, which relies on excavating outside of the foundation wall, putting a waterproof membrane on the outside of the foundation, installing a new drain tile (pipe) and backfilling with gravel. (See our web page on this system. Coming soon!)  This solution is more expensive, but many prefer it. We like both systems, as there are advantages to each.
Can I do both an interior and exterior waterproofing system?
Yes you can. This puts in multiple layers of protection to ensure your basement stays dry.