Kansas City's Best Foundation Repair Services
As a homeowner living in Kansas City, you understand the significance of having a strong and durable foundation. However, damages can occur due to various factors ranging from poor construction to plumbing leaks. At Foundation 1, we offer foundation repair services to help you with these issues.
With many options available, it can be difficult to know where to get started. Fortunately you can feel assured when choosing Foundation 1. Our team of experts will guide you through the entire process, from the initial inspection to the repairs themselves. We're committed to providing exceptional service you can rely on, so don't hesitate to call us today and schedule a free inspection and estimate.
Our Foundation Repair Services
When it comes to your home's foundation, it's important to find a reliable and trustworthy repair contractor. Look no further than Foundation 1. With almost two decades of experience, our team of experts is skilled in assessing and repairing foundation issues. We take pride in providing honest, high-quality service.
Our free foundation inspections allow us to quickly identify the source of your problem and determine the best solution to fix it. From foundation piering to wall straightening, we'll work with you to find the repair method that suits your unique needs. Don't hesitate – if you notice any warning signs of foundation failure, call Foundation 1 today and put your foundation in good hands.
Foundation Piering
Stratos Pier Foundation Piering Systems are the perfect solution for your foundation settlement problems. These systems involve driving steel piers deep into the ground and inserting hydraulic jacks underneath the footing of your home, allowing you to lift it up and make corrections as necessary.
This technique not only offers stability, but can also be used to adjust levelness as well as alignment while accommodating soil movement. Utilizing this foundational support system prevents further damage to your home and ensures that you enjoy a solid, secure base for its construction.
Wall Straightening
Wall straightening is an effective way to correct any foundation wall that has leaned or bowed more than 3". The process begins with excavation before the wall is reset and kept in place through the use of steel beams to restrain it from moving further.
This method also guarantees your home's framing, or exterior soil, are not compromised in any way during the process. Nevertheless, it is highly recommended to seek professional opinions when considering whether this type of repair should be done.
Wall Stabilization
Wall stabilization is an effective method used to strengthen weakened foundation walls in order to prevent further damage. The process requires the use of steel beams attached firmly to your house framing or solid ground outside, ensuring foundation walls stay strong and upright regardless of changes in soil pressure.
This technique has been employed to save buildings from collapse, allowing homeowners to protect their structure and eliminate the need for costly repairs. Additionally, wall stabilization can aid with energy efficiency as poorly supported walls are likely to let air through more easily than a stabilized wall would.
Foundation Crack Repair
If you've noticed a crack in your foundation, there's no need to panic – although it can be an indication of a serious problem, cracks can be quite normal. In fact, many buildings experience minor and harmless shifts due to seismic activity or changes in the climate that result in minor cracking. However, if you want to be sure your home is safe from any potential issues, the best way is through a professional consultation.
Our licensed and fully certified evaluators offer free consultations and will thoroughly inspect the area. With their expertise and knowledge, they'll provide you with trustworthy solutions so you can have peace of mind knowing your foundation is secure.
Our Foundation Repair Contractors Make the Difference
When your home is in need of foundation repair, you want to be sure that you hire a reputable and experienced contractor. Foundation 1 has been repairing foundations in the Kansas City area for years, and our team of experts has the knowledge and skills to get the job done right.
We use only the highest quality materials and techniques, so you can rest assured your foundation will be properly repaired. We also offer a wide range of services, from small repairs to complete foundation replacements. No matter what your needs are, we will work with you to find the best solution.
When To Call A Foundation Repair Company
Knowing when to call a foundation crack repair company can be difficult. There's plenty of conflicting advice on the web, including questionable fix-it-yourself guides and lengthy lists of warning signs.
At Foundation 1, we offer free foundation inspections. If you suspect that you may have foundation problems—whether you're certain professional foundation crack repair is necessary or not—we'll come to your home and check out the damage. After your free foundation inspection, you'll know with certainty what type of service is needed, be it foundation piering (helical pier installation), basement wall repair, foundation drainage, simple cosmetic work, crawl space repair, complete foundation repair, or no service at all! Our foundation contractors in Kansas City can provide you with quality work that will correct the issue in need of repair, improving the structural integrity of your home's foundation.
We'll also help you diagnose what might be causing your foundation damage, or other potential foundation issues and causes to offer solutions to prevent the problem from repeating itself in the future. Whether you need basement waterproofing from our expert basement contractors or serious foundation work, we will do a great job for you because happy customers are what we care about.
Signs of Foundation Damage
Our concrete and foundation contractors in Kansas City are more than happy to help you identify drainage problems or other foundation issues, but there are a few signs of foundation damage you can be on the lookout for.
 If you notice any of these signs or symptoms occurring around your home, don't hesitate to call and request that one of our foundation contractors come visit your home. ​We can address current foundation issues and help you identify problem areas that could lead to future needs. Here are some signs of foundation problems:
Foundation cracks
Cracks in garage floors
Cracking drywall
Basement leaks
Leaning interior walls
Bowing foundation walls
Sticking windows and doors
Bowing or gaps in walls
Tilting chimney
Collapsing retaining wall
Uneven floors
Flooding or water drainage issues
Keep in mind even new construction homes can have foundation issues. If you live in a new home, you still need to examine your home for the above signs of foundation problems.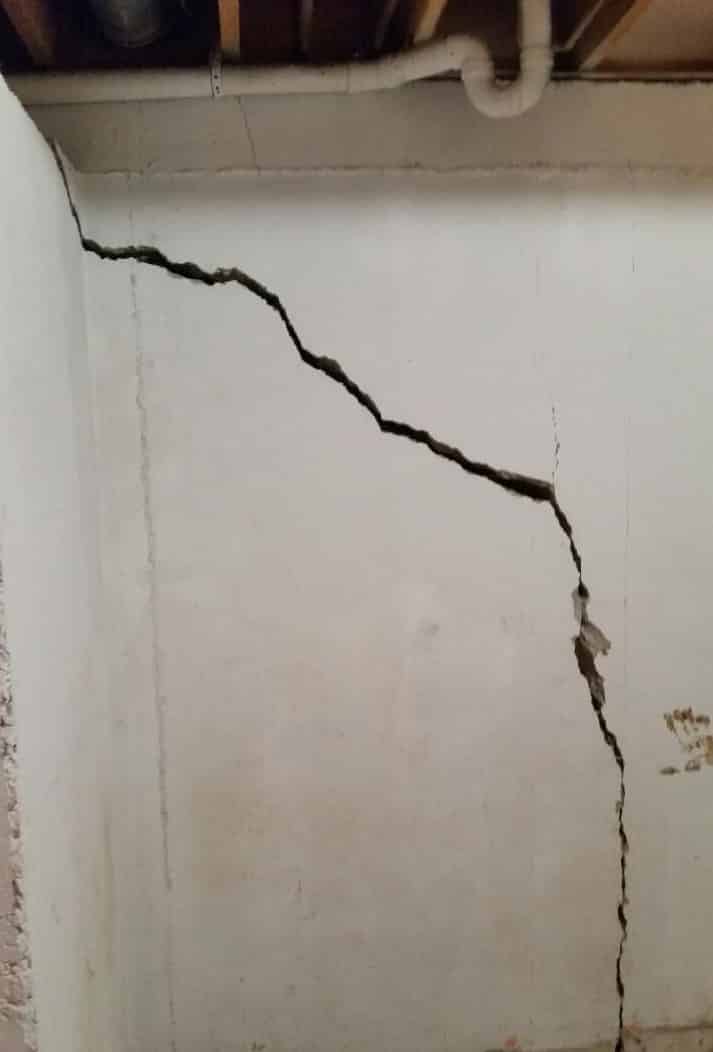 What Causes Foundation Damage?
It's understandable for homeowners to become frustrated when they discover their home has flaws that need to be corrected. Especially those in a newer home can feel upset that their home is not 100 percent safe for their family, that's why some people buy new homes in the first place.
No one wants to deal with foundation cracks in their Kansas City Homes. A little knowledge about what causes foundation problems could help you prevent some of these problems from happening to you. Nevertheless, sometimes foundation issues are not preventable, but they do need to be addressed as quickly as possible.
Additionally, a solid understanding of what causes foundation damage can not only help you choose the most effective foundation repair method, but it can help to ensure foundation damage doesn't occur in the future. Foundation repair work may seem overwhelming, but with the right foundation contractors, your Kansas City home can be back to the safe and sound haven you always wanted it to be.
Some of the primary causes of foundation failure we check for during our inspections include:
Poorly-compacted fill soil
Expansive soils
Inadequate water management and exterior drainage
Improperly channeled roof water
Hydrostatic pressure and water damage
How to Prevent Foundation Problems
Water is a blessing in many situations, but when it comes to a home's foundation, water can be a curse. If runoff water is not properly managed, it can lead to wet basements, expensive damage to your home's foundation, deterioration of basement walls, mold and mildew growth, excess moisture in your home and many other problems.
While we can correct foundation problems after they occur, it's usually better to stop damage before it starts. One way to prevent foundation damage is to address water drainage issues.
Foundation 1 addresses inadequate water drainage in Kansas City in a few ways:
We can install a sump pump system in the basement. These systems can suck excess water out of your basement before it can damage your foundation or foundation walls.
We can install external waterproofing or drainage solutions, such as French drains. These solutions can guide water away from your home.
Crawl space encapsulation and other vapor barriers can be installed. These methods keep moisture from seeping into your home through the ground.
The installation of dehumidifiers could be performed, which can improve air quality. These are heavy-duty dehumidifiers capable of increasing air circulation throughout your home while keeping your air at the proper humidity level.
Whether you need Foundation 1 to handle the installation of interior drainage systems or you need other types of repairs to correct or prevent a foundation issue, we offer free quotes so you can learn about the foundation solutions that are best for your situation.
Foundation Repair FAQs
When your home develops a serious foundation problem, you are going to have a lot of questions. The foundation repair experts at Foundation 1 in Kansas City can answer all of your questions during a free consultation. We can come out and examine your home to determine what type of foundation issues you have, what your options are for repairs, and how much repairs will cost. We outline everything for you, so you will understand exactly what is going on with your home's foundation, what the risks are and how we can fix the problem.
Call for answers today, or read through some of our commonly asked questions to learn more about our company, services and the foundation repair process.
What are helical piers?
Helical piers are anchors used as part of an anchoring system intended to stabilize and strengthen foundations. Helical piers are installed deep into the ground to provide support for a new foundation or repair an existing structure.
How can I minimize foundation repair costs?
One way to minimize the cost of foundation repairs is to address issues as soon as you identify them. If you notice water pooling around your home or drainage problems, don't wait to get the problem fixed. Water can do tremendous damage to your home's foundation faster than you may realize. Minimize foundation costs by obtaining professional help right away.
What are Foundation 1's service areas?
Foundation 1 is pleased to provide foundation repair services and basement waterproofing solutions to Raytown, Liberty, Independence, Olathe, Lee's Summit, Lenexa, Belton, Overland Park and other cities in the Kansas City metropolitan area in both Kansas and Missouri.
Can you help me obtain a dry basement?
Water drainage issues can cause wet soil conditions that lead to a host of issues for your basement. In addition to foundation repair, Foundation 1 proudly offers basement waterproofing and drainage solutions in the Kansas City area. We can help you get a dry basement by installing water drainage systems, sump pumps, vapor barriers, crawl space encapsulation, dehumidifiers, and more. Avoid all the issues of a wet basement, such as structural damage, mold and mildew, foul smell and poor air quality by partnering with Foundation 1.
Can damage to a concrete foundation really cause structural issues?
Yes, your foundation and foundation walls are important to the structural stability of your home. If your walls are bowing out of position or you have cracks in your foundation, these are signs of a dangerous situation. Foundation 1 in Kansas City uses helical piering and other concrete repairs to correct structural issues, so you can sleep soundly at night knowing your home is safe for your family.
What do my foundation cracks say about my home?
Horizontal cracks are the most serious cracks to look out for as they are strong indicators that there is a problem with your home's foundation. Vertical cracks can go straight up and down or appear in the direction of a 30-degree angle. These cracks could simply be caused by foundation settling and may not be cause for concern, but it's probably best to have all foundation cracks examined by an expert.
New Home Foundation Contractor Services
To the new home builder in Kansas City,  Foundation 1 can be a partner who provides helical piering, waterproofing membranes and drainage solutions. Differentiate your homes from the competition by addressing foundation and waterproofing issues at the time of construction! Contact us today to set up a meeting to discuss how Foundation 1 can partner with you on new home construction.
Call Foundation 1 For A Free Foundation Repair Estimate
Do you have foundation issues in the Kansas City region? Foundation 1 can assist you with any repair requirements. Our team is competent in addressing any problems, including crack repairs and water drainage solutions.
We understand the importance of a strong foundation for your home's safety and durability. Therefore, we provide a free inspection and estimate for our services. Neglecting foundation issues can be detrimental, so reach out to Foundation 1 now for reliable repairs and peace of mind.