Kansas City's Trusted Concrete Leveling Contractors
When soils shift and settle,​ your property's concrete slabs can be compromised, causing cracks and uneven surfaces. Unlevel concrete can be both hazardous and unsightly, which is why most homeowners and business owners in Kansas City make driveway and slab repairs sooner rather than later. Instead of pouring new concrete for every project, which can be a time-consuming and expensive endeavor, we recommend concrete leveling. Our preferred method of concrete leveling is polyjacking, a process used to level, raise, and fill voids under the concrete.
Concrete lifting is important to repair your damaged or sunken concrete. Whether you need driveway leveling, sidewalk leveling, or you need to raise a sunken patio, Foundation 1 can help. We have the experienced concrete experts needed to repair your concrete using the slab jacking/polyjacking method. We can also help with other concrete needs, such as crack repair, or fixing an uneven concrete surface.
Why Does Concrete Sinking Occur?
The most common cause of concrete sinking is the movement of soil beneath the slab. Over time, soil will naturally settle, though several factors can accelerate this process. Poorly compacted fill soil, washout due to heavy rain or plumbing leaks, and unusually dry weather can all cause soil to shift suddenly and create voids underneath concrete slabs. The strength of your concrete slab depends on the stability of the soil beneath, so when voids begin to form, your concrete will weaken and eventually crack and collapse into the void. Though heavy rainfall and natural settlement are uncontrollable, here are some of the common and often preventable causes of sinking concrete:
Poor soil compaction during construction
Poor excavation for drainage
Poorly installed or maintained downspouts
Burrowing animals
Tree roots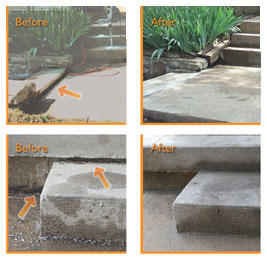 Changes to the soil over time may not be preventable in all cases, but keeping an eye on your concrete to check for signs of damage could help you prevent concrete problems. At the first sign of damage or an issue, Foundation 1 in Kansas City can come out and make driveway and slab repairs before the situation gets worse. We even offer free inspections and a free estimate so you can get an idea of the cost of your concrete raising repair.
What Is Polyjacking?
Polyjacking is a form of concrete repair used to stabilize, level and raise sunken concrete or fill in voids. It uses high-density foam injected through small drilled holes, which expands in place to lift the slab back to its desired position. The expanding urethane foam stops further settling and can even make small cracks disappear as it fills them in. This process is much less invasive than traditional methods of concrete repair, such as mudjacking or replacement, as there is no heavy equipment required or large messes created. Polyjacking also takes considerably less time and is often finished on the same day. You might have heard polyjacking called other popular terms, such as concrete lifting, slabjacking, mudjacking, or concrete raising, but all have the same goal of leveling concrete. Polyjacking by our Kansas City concrete leveling experts can greatly reduce the dangers associated with uneven concrete. It can also improve the look of your yard, garden, patio, sidewalks, driveways, or other areas where concrete is used at your home. Improved curb appeal and updates to your home usually pay off when you sell your Kansas City home because potential buyers won't be put off by cracked concrete, unsightly concrete, or sunken concrete.
Mudjacking vs. PolyFoam Injections
When it comes to concrete leveling, there are two common methods: mudjacking and PolyFoam injections. Although both approaches share the same objective – to fill voids in concrete surfaces and raise them to the desired height – PolyFoam injections offer superior outcomes compared to mudjacking.
One of the key advantages is that polyurethane foam injections set very quickly, allowing you to use the area within 30 minutes after completion in comparison to 24 hours with mudjacking. This reduces downtime and helps avoid damage resulting from delays. Additionally, polyfoam injections minimize water absorption because they are fully waterproof; this ensures improved stability over time.
When performed by a qualified specialist familiar with its use, polyjacking offers outstanding performance at a fraction of the cost of replacement. As such, it's easy to see why PolyFoam injections are the best method for reliable and long-lasting concrete leveling.
Why Is Polyjacking the Preferred Method for Concrete Leveling?
Polyjacking is our preference for concrete leveling because it's a cost-effective alternative to tearing out and replacing a sunken concrete driveway in Kansas City. It is completed in just a few hours, requiring less equipment and manpower than newly poured concrete slabs. Not only that, it's minimally disturbing to the surrounding areas, meaning less mess and potential damage. Once the mixture is cured and the process is complete, you'll be able to use your concrete immediately with trip hazards gone and the peace of mind knowing that your concrete repair will last for years to come.
Polyjacking vs. Concrete Replacement
When it comes to concrete leveling, polyjacking is a preferable and cost-effective choice in Kansas City. Especially over total concrete replacement when the current concrete can be still salvaged.
Polyjacking allows you to address only the areas of the concrete that require maintenance, whereas concrete replacement requires you to tear out and repour the entire slab. Concrete contractors can take up to multiple days to complete your new slab given the extensive process, which can include removal, framing, pouring, cutting, and curing. Not to mention, a full tear out and replacement can cost 6 to 8 times more than the cost of concrete leveling in Kansas City.
What Types of Concrete Surfaces Can Polyjacking Level?
Polyjacking can be used for virtually any concrete surface repair project. Here are a few of the most common concrete surfaces we can fix using the polyjacking method:
Driveways 
Sidewalks
Garages
Basements       
Patios
Stairs
Pool decks
Under footing post piering
Other free-floating slabs

Reasons Not to Ignore Uneven Concrete
Concrete settlement can be a problem for many reasons, and you may not want to ignore sunken walkways or patios. If you ignore a concrete issue, the problem will only get worse. Foundation 1 can correct concrete problems with our driveway and slab repair solutions in Kansas City.  Here are some of the important reasons you don't want to ignore problem concrete:
Someone Could Trip
One reason not to ignore sunken or uneven concrete is due to the danger it poses. Cracks and sunken concrete can be serious tripping hazards, which could result in severe injuries to you, your family, or guests. You could even be sued due to a dangerous tripping hazard on your property. It doesn't take much for someone to fall. Whether the damaged concrete is on your basement floor, driveway, or patio, someone could be hurt due to uneven concrete. They could sustain a head injury or broken bone, exposing you to liability or other issues.
It's Unsightly
Unlevel concrete is not attractive. It's not a warm welcome to be greeted by a cracked or sunken sidewalk, and it won't bring you or anyone else joy. If the damage is at a business property, the state of your concrete sidewalks or parking lots can create a bad first impression for customers or potential clients. Uneven concrete will never be trendy.
Lowers Property Value
No one in the world wants a home or business property to have unlevel concrete. Whether it's a patio, driveway, walkway, parking lot, or other concrete surface, people do not want to purchase a property with unlevel concrete. The appearance of your concrete surfaces can lower your property value if the damage is bad enough.
Makes it Difficult to Sell Your Property
When it comes time to sell your home or business property, buyers look at everything. If they see sunken sidewalks or other concrete problems, they may walk away from your property. They may feel like it would be too expensive for them to repair these issues, so they will look elsewhere. No one wants to purchase a property that hasn't been well-maintained, and you could have to lower your listing price or be unable to sell the property at all. It's best to take care of these issues when they pop up (or sink in), so they don't come back to bite you later.
Collects Water
Uneven concrete also has a tendency to collect water. When it rains or snows, water can get stuck in unlevel parts of sidewalks, patios, driveways, or walkways, and the water can do further damage to your home or landscaping. The moisture may sink into the soil and cause structural damage to your home's foundation. The water could also become a sanitation issue.
It's best to take care of concrete issues as soon as possible. With quality work from Foundation 1 and the reliable polyjacking method we use, you won't have to deal with the troubles that come with uneven concrete for long. We are devoted to customer satisfaction, which is why we offer free estimates and information on the slab jacking injection process.
Contact Foundation 1 Today, Your Kansas City, Missouri Concrete Contractors
Ready to set up an appointment to have a free evaluation at your home in the Kansas City area? Concrete leveling and polyjacking could be the right solution for your concrete problems, and Foundation 1 is the right company for the job. We have extensive experience handling concrete repairs of all types, and we know all there is to know about concrete. We can handle your concrete problems using polyjacking or other repair methods.
If you have settling concrete, a sunken slab, a broken garage floor, or cracks in your sidewalks, we can help you repair any and all of your concrete issues. Call Foundation 1 today to get your free inspection and estimate today.
TRUST OUR TEAM'S EXPERIENCE