Exterior Basement Waterproofing
Exterior basement waterproofing stops moisture in its tracks before entering your basement. Unlike interior waterproofing, which directs water out and away from the foundation after it's already entered your home, exterior basement waterproofing prevents water intrusion into the home's foundation altogether. This reduces reliance on internal drainage systems—such as perimeter drains—and creates a watertight barrier to protect your basement from the outside in.
Ready to seal off a leaky basement and restore your peace of mind for years to come? Call Foundation 1 to learn more about our exterior basement waterproofing solutions and schedule your free inspection!
Waterproofing Your Basement Walls from the Outside
If you're looking to keep your basement walls and floors dry, look no further than Foundation 1 in Kansas City. Our team of expert waterproofing contractors has been providing exterior waterproofing solutions for nearly two decades, helping thousands of homeowners rest easy knowing their basements are protected. With proven methods and satisfied customers, we take pride in our reputation for providing top-quality service. Don't let a wet basement cause any more headaches – trust Foundation 1 for all your waterproofing needs.
Our team of professionals has dedicated years to perfecting our exterior foundation waterproofing systems. We take pride in knowing that our solutions are the best in the Kansas City area. We understand the importance of having reliable waterproofing systems to protect your home from water damage and mold growth. With our expertise and quality products, you can rest easy knowing your basement walls are safe from any potential water intrusion.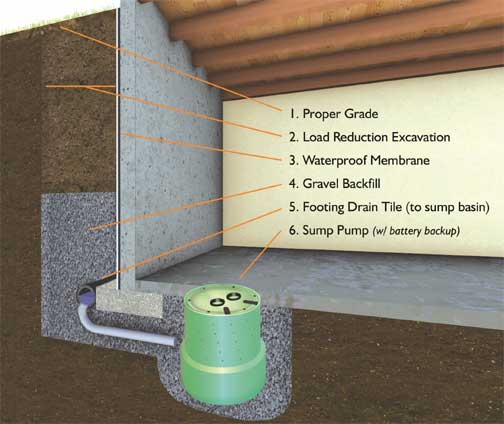 Our Exterior Waterproofing Process
Our exterior waterproofing method involves a five step process:
External Excavation to Footing
A trench is dug to the footing of your foundation. Once this is completed, the exterior foundation wall is cleaned to reveal any cracks that could be letting in water.
External Crack Repairs and Waterproof Membrane
We fill any external cracks or defects in the concrete, then apply an exterior waterproof membrane that acts as a barrier.
Footing Drain Tile to Sump Pump
Typically, we run a new footing drain tile (pipe) to the sump pump. A new sump pump is often indicated, as the load reduction system relies on water which reaches the footing to be pumped away from the foundation by a sump pump. Having a strong functioning sump pump is a critical aspect of the system. There are some instances where we may be able to run the drain to daylight or use an existing sump pump, however, this will be assessed by your evaluator prior to developing the repair plan.
Gravel Backfill and Load Reduction
To complete the drainage system, we backfill a portion of the trench with gravel. Because gravel does not have the expansive characteristics of dirt and clay, this reduces the amount of pressure directly on the wall, which often addresses some of the key underlying problems
Replace Dirt and Ensure Proper Grading
Finally, we replace dirt and ensure there is sufficient negative grade away from the home's foundation.
Common Signs of a Wet Basement That Needs To Be Waterproofed
It's important to be able to recognize the telltale signs of water damage to your basement walls and foundation so that you can get help from a waterproofing contractor. If you experience any of these problems, then you may be a candidate for exterior waterproofing:
Mold and Mildew
You may smell their unpleasant, musty odors before you ever see them. Basements are ideal habitats for growing mold and mildew, which often indicate rotting materials and also pose an airborne health risk.
Wall and Floor Stains
If you see discoloration in your basement walls or floors accompanied by water, it is a strong indication that water may be seeping through your foundation.
Standing Water
Puddles of standing water in your basement are an obvious sign of water seepage. An exterior waterproofing drainage system would fix this issue.
Wall Cracks
Over time, water pressure can cause cracks in your basement walls that allow water to seep through. Not all wall cracks are signs of foundation damage, but you should call a foundation repair company for an inspection if you are unsure.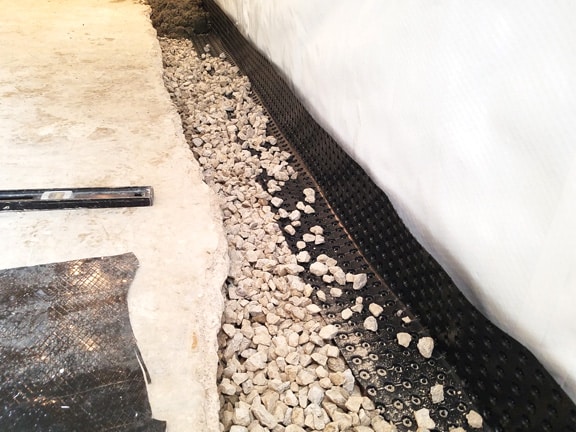 Advantages of Exterior Foundation Waterproofing
No disturbance to the interior of your basement, making exterior waterproofing advantageous for those with finished basements
Involves waterproofing your foundation from the exterior with wall crack repair and an exterior waterproof membrane
Provides an opportunity for foundation wall straightening and wall bracing, repairing foundations that have caved inwards due to hydrostatic pressure or poor water management
Works well with a variety of home exterior types: waterproofing exterior brick walls, concrete walls, wood siding, and more
Reduces or eliminates reliance on interior waterproofing systems
Installation time is longer and can cost more, yet it is the only way to ensure a completely watertight foundation and basement
Products used for exterior waterproofing are serviceable
Services Often Done Alongside Exterior Basement Waterproofing
Very often we will include some additional products and services in conjunction with the exterior waterproofing project, including the following:
Internal crack repair is often indicated to seal up the cracks on the inside foundation. Visit our web page on these services to see the different options we have available to help seal internal foundation wall cracks.
Wall Straightening:
When we have the wall excavated, we are able to perform a "wall push" which will take a wall which has bowed, or leaned in, and return it to a plumb position. This, obviously, returns a significant amount of the structural integrity to the wall. Your evaluator will measure to see how much the wall is leaning in and, based on this, be able to indicate if the wall straightening (push) procedure is necessary.
Wall Bracing:
Wall bracing can also be a part of the process as well. If the wall has experienced significant movement, it often makes sense to reinforce with wall beams and/or other bracing mechanisms. The goal here is to make sure that your foundation wall stays straight in the future and is protected against the inward pressures, bowing, and leaning in the future.
Again, your evaluator will assess which of these add on products and services will be of benefit.
Call Foundation 1 for Exterior Basement Waterproofing in Kansas City
Protecting your investment is a top priority, and when it comes to water damage, prevention is key. That's where Foundation 1 comes in. With our exterior basement waterproofing services in Kansas City, we can help ensure that your home stays dry and protected from unwanted water intrusion.
Our team of professionals is dedicated to providing top-notch service and quality workmanship. Contact us today to schedule your free evaluation and take the first step towards safeguarding your home against water damage.