Overland Park's Best Foundation Repair and Basement Waterproofing Services
When it comes to finding reliable and professional services for foundation repair, concrete work, and basement waterproofing, Foundation 1 in Overland Park has you covered. Our team of experienced foundation contractors and concrete specialists is ready to tackle any home improvement project you have in mind.We understand the importance of a strong foundation and a dry basement, and we are committed to providing top-notch services to homeowners in Johnson County. Trust our experts to provide affordable and reliable solutions to keep your home safe and secure. Contact us today for all your foundation, concrete and waterproofing needs.
At Foundation 1 We Are Johnson County's Trusted Foundation Experts
Family-owned and operated, Foundation 1 has earned the right to say, "Rest your foundation on our reputation." For the last 20 years, our concrete contractors in Overland Park have provided the highest quality work along with fair pricing and customer service based around honesty and integrity. Part of that means offering free, genuine consultations that allow us to determine your needs and answer any and all questions you have.
We aren't here to upsell you into services you don't actually need, we're here to provide the best foundation repair services in Overland Park. We provide foundation services, exterior and interior waterproofing services, and concrete services to residential and commercial customers in the Johnson County area, including Lenexa, Olathe, Leawood, Shawnee, Mission, and Mission Hills.
Our Foundation Repair Services in Overland Park
Foundation 1 is the go-to choice for professional foundation repair services in Overland Park. With years of experience in the industry, our team of experts is well-equipped to tackle any foundation repair project, big or small.
We know foundation issues can cause stress and uncertainty for homeowners, which is why we prioritize clear communication and transparency throughout the entire process. Our thorough evaluation process and personalized solutions ensure your foundation repair needs are met in the most effective and efficient way possible. Trust Foundation 1 to provide top-of-the-line foundation repair services that you can depend on.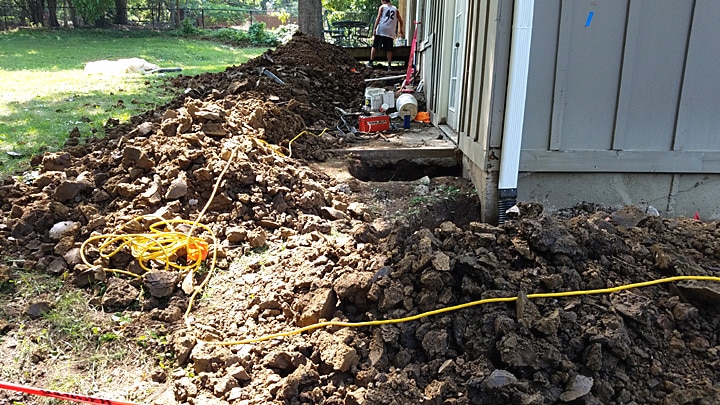 We perform foundation piering and foundation repair services in Overland Park and the surrounding areas in Kansas. If you have problems with uneven settlement of your home, call the experts at Foundation 1 for foundation repair services before the situation gets worse. What could be solved with simple foundation crack repair will never improve on its own, and before you know it, you could end up needing a full piering system in order to get your home on stable footing again. Not sure if your sticking doors or sloping floors are from foundation damage? We perform FREE foundation inspections and can diagnose your issue along with providing options for repair.
As homeowners, we often overlook the importance of our home's foundation. However, neglecting foundation damage can lead to far more extensive and expensive repairs in the future. Even minor foundation cracks can cause major structural damage over time. That's why it's crucial to address foundation issues promptly. Our team is here to help. With a free foundation inspection, we can diagnose any issues and provide repair options before the problem worsens. Don't wait until it's too late; let us help you restore your home's stability and protect your investment.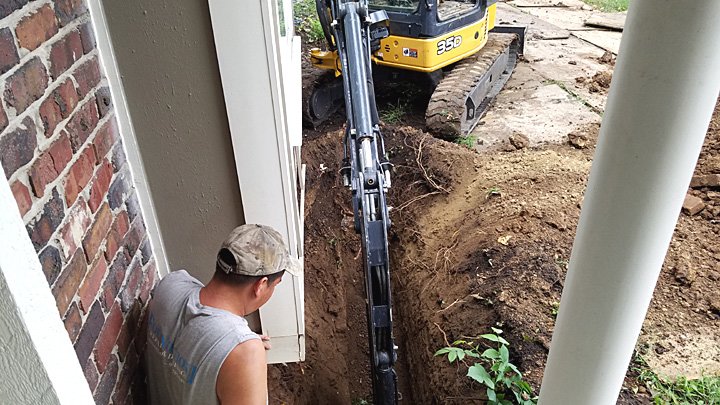 Basement and crawl space waterproofing is one of the best preventative measures you can take to protect your Overland Park area home. Water seepage in a Shawnee home could damage foundation walls. Mildew can thrive in a moist Lenexa office. Broken downspouts could cause excess water to destroy a Leawood home's structural integrity.
Waterproofing can be installed either on the interior of a home or the exterior to manage surface and subsurface water in the soil. We have a variety of waterproofing options, including drainage, sump pump installation, crawl space encapsulation, and more.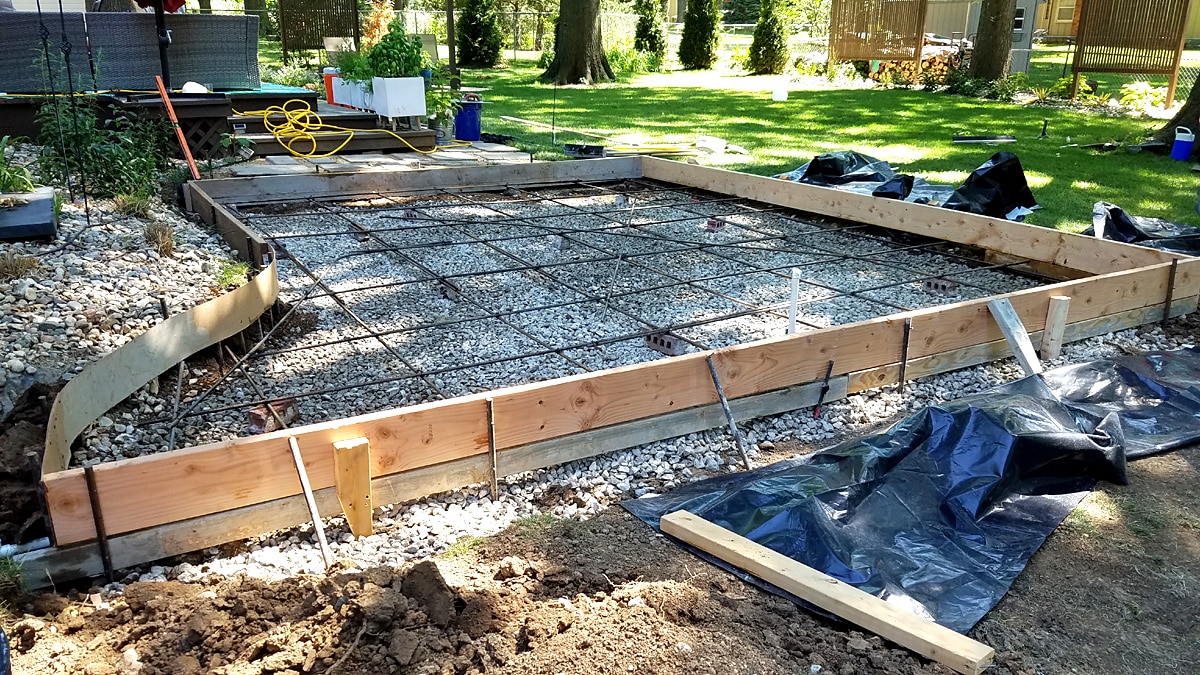 Uneven concrete around your home can be both unsightly and hazardous. You wouldn't want anyone to trip or fall due to an uneven surface. Fortunately, our team at Foundation 1 can help you achieve a safe and level surface that not only looks great but also serves its purpose well.
We understand functionality and aesthetics are equally important when it comes to concrete. That's why we offer comprehensive services that go beyond fixing cracks or holes. Our concrete contractors in Overland Park specialize in polyjacking, ensuring your concrete is not only visually appealing but also safe to walk on.
You can rely on our team to provide exceptional workmanship with a focus on precision and efficiency. We are committed to making your concrete look and function like new again. Don't hesitate to contact us today for all your concrete leveling needs.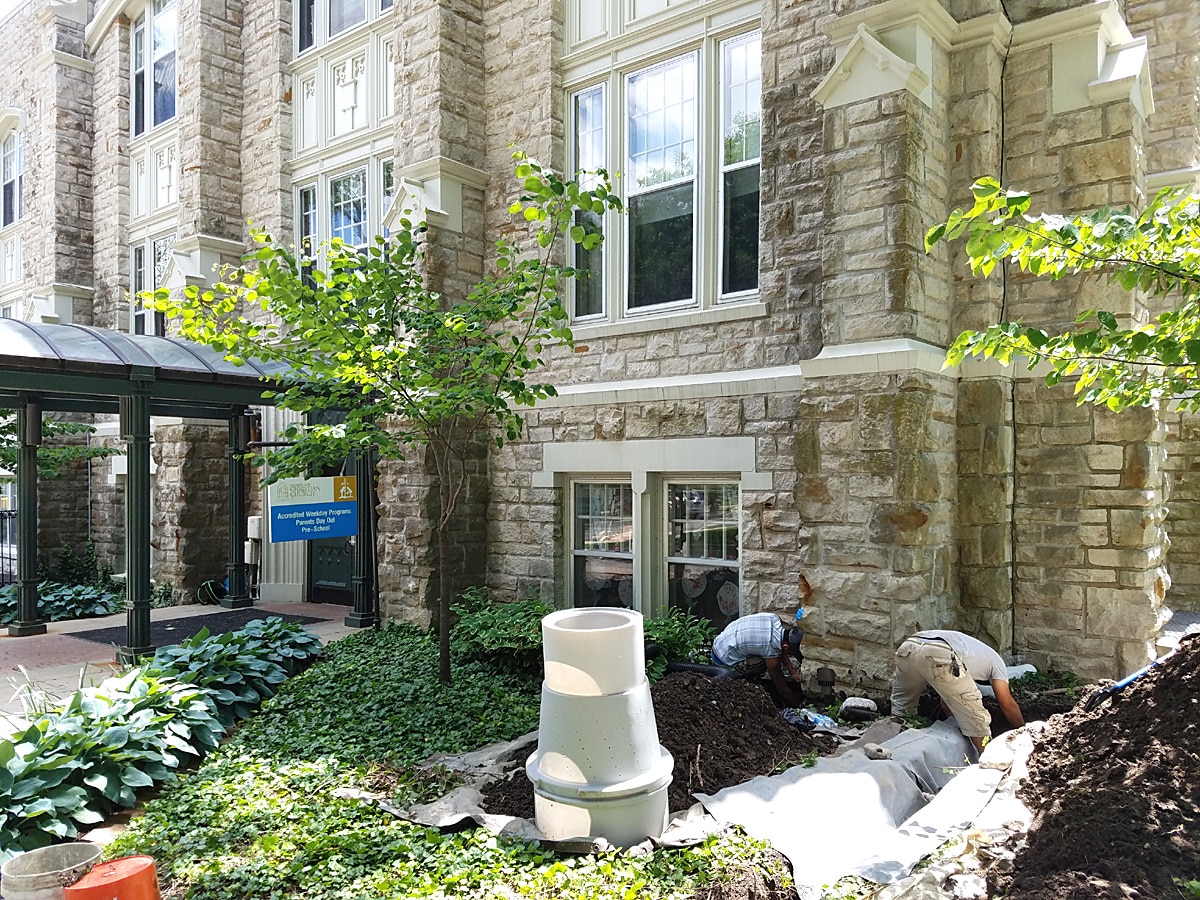 Commercial Foundation Repair Services
Whatever your Overland Park commercial building needs are, we can meet them. If your business is opening in a new building that requires concrete work, or if your business is in an existing building that requires foundation repair—call Foundation 1. We can also perform commercial waterproofing services.
Call the Overland Park Foundation Repair Experts Today!
If you're having foundation problems or need concrete repairs for your home in Overland Park, look no further than Foundation 1. Our team of experts has years of experience and is committed to providing customer satisfaction. We understand the importance of having a safe and solid foundation for your home.
Whether you have questions about our services or want to schedule a free estimate, our friendly team is here to provide you with all the information and support you need every step of the way. Don't wait to address your foundation concerns, call the experts at Foundation 1 today!
What Customers are Saying....
"
I felt SO CONFIDENT from the start that this project would be done in a timely matter and done the CORRECT WAY ! Let me tell you......IT WAS !!
"
Dan, osawatomie
"
What a surprise experience for a major home repair. Job well done. Exceptional customer service. I would absolutely use them again.
"
Andrew, Blue Springs
"
Foundation 1 made it their mission to leave me with a great customer experience and they really nailed it. Improved the whole look of the house.
"
Josh, Brookside
"
Fantastic to work with. Done under schedule and I would refer anybody. Very impressed by this company.
"
Dan, Blue Springs
"
In this day and age, service companies very rarely exceed your expectations. But Foundation 1 and their team did just that. Thank you for job well done.
"
Jeff, Olathe
"
Awesome. Professional and friendly. Went above and beyond our expectations.
"
Pam, Overland Park
"
The best experience I've had with a contractor. This was a large project, and I researched many pier options, different companies, and installation methods.
"
Nicolas, Leawood
"
Their price for 10 piers was on par with other bids we received. The work was finished within the time frame we were given and we are very pleased with their work.
"
Rita, Kansas City
"
The quality of work is evident and I believe I received a great value for money spent. 5 STAR RATING!!!!!!!
"
Mitch, Gladstone
"
Very professional, work was done as promised and on time.
"
Rebecca, Smithville, MO
"
We could not have had a better experience. Do yourself a favor and use Foundation 1.
"
Jesse, Roeland Park, KS
"
The work was done quickly, professionally and they were very informative and forthcoming when I had questions and concerns. The result is amazing!
"
Jeffrey, Independence
"
I would recommend Foundation1 without reservation. A Five-Star Company, Plus!
"
Peggy, Olathe
"
Cannot recommend Foundation 1 enough. After years of stress, moving walls, cracking drywall, sinking footings, and water in the basement, Foundation 1 gave me my house back, relieved the stress.
"
Brian, Lenexa
"
The crew leader every day explained what they would be doing. They left that part of the basement cleaner than when they first started.
"
Ken, Kansas City
"
The sump pumps, crack repair, water proofing and wall stabilization method were completed with top of the line equipment and techniques. Would not hesitate to use them again.
"
Jeffrey, Independence
"
A 5-star review for a 5-star (major) job, both interior and exterior on my home's foundation.
"
Barbara, Overland Park
"
Staff are professional, competent and thoroughly assess what needs to be done, then the work crew accomplishes the fixes In a timely and efficient manner.
"
Rich, Kansas City
"
What a great experience from start to finish. If you need this work, don't look any further. Thanks a million for the work well done.
"
Dale, KCMO
"
Great to work with. The two associates who did the job were fantastic! I highly recommend the Foundation 1 team!
"
Geoff, Parkville
"
They came up with a better plan and followed through ahead of schedule and on budget. I could not recommend this team of people more.
"
Jason, KCMO
"
The foreman kept me updated & informed on the progress & process throughout the project. I have used them twice before on other areas of my home with great reviews from the structural engineer that I hired to evaluate my home's needs.
"
Karen, Overland Park, KS
"
We are very pleased with all the work done. The foreman was always willing to talk with me for any concerns or question I had.
"
John, Independence
"
Great staff, great work, I couldn't be happier with the work.
"
Chad, Olathe
"
I can't say enough good things about this foundation repair company! They had a very reasonable quote. Highly recommended!
"
Brian, Lee' Summit
"
I appreciated that they communicated with me along the way as the project was underway, through completion. This is a company that keeps its promises for a job well done.
"
Charlene, KCMO
"
Thank you so much! Will call on them if ever needed for this type of work again!
"
Tracy, KCMO
"
Very happy with the job the team did waterproofing my basement and installing a sump pump.
"
John, Overland Park
"
Now that I know exactly what the techniques entail, I understand why this is such expensive work!
"
Cydney, Mission
"
Installed in 2 days at a fair price. Highly recommend them for any looking to solve a leaky basement issue.
"
Joseph, Overland Park
"
I have very high expectations for contractors and am willing to pay for higher quality work. They met all of my expectations and I would highly recommend them.
"
Nicolas, Leawood
"
Now, during even a very heavy rain, the house is dry!
"
Margaret, Mission
"
Foundation work is expensive. It takes highly skilled crews, large equipment, time, planning, etc. I priced many companies over many years and Foundation 1 offered an excellent price point for the job. Don't do what I initially did and pay some guy in a pick-up to install a couple of wall braces. It will just cost that much more later when you have the job done correctly.
"
Brian, Lenexa, KS
"
Foundation 1 sent a great team out to my residence to replace a failed sump system and solve some drainage issues.
"
Joseph, Overland Park
"
They exceeded the scope of work and were done on time. I was allowed to approve each stage of the process and felt like I was given excellent service.
"
George, Excelsior Springs
"
Put it off too long, and too many sleepless nights squeegeeing water into my inadequate existing sump pump to keep it from ruining my finished living space and fearing the worst when the rains came. I'm very pleased with the results and the cost.
"
Jeffrey, Independence
"
I cannot tell you how exciting it is to look out and see no water running over my front sidewalk. I was able to remove the snow without it icing over for the first time in years. This is all because of your firm.
"
Michelle, Kansas City
"
We are glad that we went with this company and would recommend them to others needing a waterproofing solution. Customer service also responsive and efficient.
"
Alice, Independence
"
The crew that did the work were a quality bunch. The crew chief kept me informed of their progress and actually finished one day early.
"
Barbara, Overland Park
"
F1 did a very good job. They arrived as scheduled, did the work as promised, cleaned up before departing. I would recommend them.
"
Kevin, Stilwell
"
The prices were better than others I had contacted. The work turned out great and I have every confidence that my basement problems are over.
"
Jeff, Liberty
"
Professional and courteous employees, by far the most reasonably priced!
"
Rhonda, Overland Park
"
Foundation 1 was great to work with from the beginning. They were very prompt with bidding the job, scheduling and doing the work. I would recommend them highly.
"
Mary, Grandview, MO
"
We were very impressed with our experience with Foundation 1. We received quick responses to my multiple calls with questions.
"
Geoff, Parkville
"
I could not have asked for a better experience. Everyone I spoke to or worked with at Foundation 1 was
extremely friendly and professional.
"
Cheryl, Gardner
"
The entire organization was very friendly and professional. They showed up consistently, worked hard and explained everything that was being done and answered any questions I had.
"
Angela, Spring Hill
"
The whole crew did an amazing job. We got 4 estimates, and they were the most qualified AND had the best rates.
"
Sadie, Raymore
"
Foundation1 was professional from the start to the finish. I felt like they had my back on this project.
"
Chris, Olathe
"
Excellent experience! The crew was friendly, efficient and kept the work area clean and organized.
"
Michael, Independence
"
They were punctual and professional. The foreman, in particular, went the extra mile to ensure that I was happy with the drainage solution.
"
John, Overland Park
"
Compare all the other guys to this firm, start to finish.
"
Scott, KCMO
"
In short I am truly beyond extremely pleased with the results. It was a very pleasant experience.
"
Michelle, KCMO
"
Excellent experience with this company. Highly recommended.
"
Rich, KCMO
"
Foundation 1 exceeded my expectations.5 STAR RATING
"
Michael, Independence
"
Everything was handled in a professional and timely manner for a very quick turnaround needed to close on my home sale.
"
Tracy, KCMO
"
I would recommend Foundation 1, from the smallest repair to one as large as mine was. Much care and consideration was exhibited throughout all of their work.
"
Chris, Olathe
"
The workers were very friendly and professional. I highly recommend Foundation 1.Their quality and cooperation and communications are very good.
"
Norman, Shawnee, KS
"
I have confidence that my basement is repaired correctly and completely from the problems I've had for too many years. The cost was less expensive than others I contacted and who had looked at the issues.
"
Jeffrey, Independence
"
At each point in our experience, from the estimate to the completion of the work, they were professional, courteous and answered all our questions.
"
Erika, Overland Park
"
The project spanned 5 days and the project manager explained what work would be performed daily. The end result far exceeded by expectations.
"
Mitch, Gladstone
"
As an investor I always add an egress window to the homes I buy. It instantly adds more value to the home than the initial investment. Its a no-brainer for me and Foundation 1 is my go to contractor.
"
Chris, Olathe
"
I can't believe how much light the window lets in. The room actually feel larger than before. Foundation 1 did a great job and would definitely refer them or use them again.
"
Steve, Leawood
"
Great for the cost, went with the basic well package and I love it. I wish I had room for one more but this one made a huge difference. Great work, Great price.
"
Angela, Kansas City
"
Gave a timely quote with great explanation of what was needed.
"
Tracy, KCMO
"
The estimator was so professional and knowledgeable. He arrived on time and explained the process so I understood the proposed process, pricing, and time line.
"
Barbara, Overland Park
"
They were extremely hard workers and showed up on time every day and dug through frozen ground during snowfall and maintained a great attitude the entire time.
"
Nicolas, Leawood
"
I was worried about losing landscaping I had recently planted and they took into consideration the aesthetics of how the area would look after the job was done. I was very happy with how they cared for the plants and ensured the landscaping looked better when they left.
"
Geoff, Parkville
"
The quality of the workmanship was excellent. They left my basement much cleaner than they found it.
"
Linda, Lee's Summit
"
The estimator, the crew, and the office staff couldn't have been more helpful and informative in the explanation and execution of the work. Very professional service from all involved.
"
Jeff, Liberty
"
Everything was done professionally from the estimates, the scope of the work and the reminders before the work was started.
"
Emmeline, Leawood
"
What a great crew! The gentlemen who were sent to do the job were fantastic.
"
Michelle, KCMO
"
Overall, we are very satisfied with the results and recommend them fully.
"
Angela, Spring Hill
"
Most surprising of all was the clean up. They even cleaned my garage floor and large crawl space with a sponge and bucket to clear the mud tracks. Are you kidding me?
"
Andrew, Blue Springs
"
EXCELLENT!!!! The work was completed about one week before originally scheduled.
"
Mary Jean, Kansas City
"
It was amazing how quickly they got the work done and cleaned everything up. You will not be disappointed!
"
Sadie, Raymore
"
Were knowledgeable and responsive. All questions were answered.
"
Jan, Kansas City
"
I was afraid of what it was going to look like afterwards and I was surprised to see everything put back. It was great! They went above & beyond to accommodate a very tight schedule.
"
Pam, Overland Park
"
Very well! Courteous, friendly, professional service.
"
Mike, Leawood
"
Great company, great people! Go above and beyond.
"
– Donna, Kansas City
"
Courteous, responsive, adaptable, respectful, honest, professional, friendly, clean, quality work. Should I go on? I am a believer in balanced reviews, but there's just nothing shy of exceptional to say about this company.
"
Brian, Lenexa
"
Worked a near miracle at my house. They knew what they were doing and did it well.
"
- Linda, Lee's Summit